Destiny 2 is a First Person Shooter multiplayer game from developer Bungie. Bungie seeks to deliver an epic world-spanning story and intense, complex firefights. It was firstly developed for PlayStation 4 and Xbox One, and then it was also refurbished for Windows gamers.
The latest updates of the game have offered cool new perks and rewards, which have made all the gamers crazy around the globe.
However, you won't have to fight alone in this endeavor as players can team up and join clans to better their odds. For those who are not acquainted with the term, clans are simply in-game optional groups that can be created or joined to enlarge your partner base without cramming up your friend list.
Clans are a great way to find players who you can regularly play with to complete strikes and raids in the Destiny 2 game. They let the Destiny 2 players progress together and build their own communities with incentives such as clan XP and clan perks.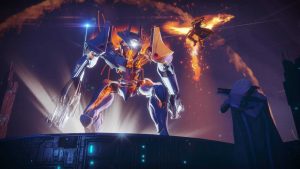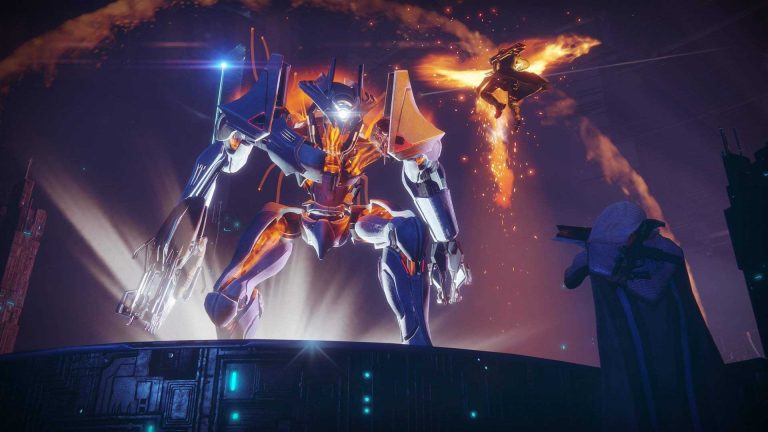 The game includes dozens of gamers allowed to join together under a single banner, fight for a common cause, and earn a terrible loot. But before all of this happens, you need to know how to create or join a clan and invite people to a clan in Destiny 2 game.
How to Join a clan in Destiny 2
Players have at least 3 ways to join a clan either directly on the Destiny 2 game, by using the mobile app or through the Destiny Companion on Bungie.net. Players can also create clans.
Joining a Destiny 2 clan within the game:
If you are trying to find a Destiny 2 clan to join within the game, you should open up the roster menu and lookup for someone who is in the clan you wish to join. You can then view the clan profile. You can even send a request to join the clan.
If you are in a dilemma which clan you should join, Bungie has a recruitment forum where players can search for new members. It allows you to browse potential clans. But this function is not available on the Destiny Companion and on the mobile app.
Creating a Destiny 2 Clan Via the Companion App:
To create Destiny 2 clan via the Companion App, you have to follow the steps below:
If you have not already downloaded and installed the Destiny 2 companion app. The app is available for both Android and iOS platforms.
Launch the Destiny 2 Companion App and sign in with your Battle.net, PlayStation Network, or Xbox Live account.
Tap at the bottom of the screen and then click on the create clan.
Fill all the details like your clan name, call sign, motto, and introduction, then choose your language and membership options. You should also choose which clan to build a Destiny account under. When all this is done, tap on Create Clan.
You created a Destiny 2 clan.
Creating  a Destiny 2 Clan Via the Bungie Website:
To create Destiny 2 clan via the Bungie Website, you have to follow the steps below:
Go to https://www.bungie.net/en/ClanV2/MyClans and log in to your Xbox Live, PlayStation Network, or Steam account.
Select the Create Clan option.
Fill in all the details like your Clan's name, short name (a call sign that displays in post-game reports), motto, and a short introductory paragraph. You can also set a language. You can also choose whether or not players need an invite or approval to join your Clan, or if it's open to all.
Once you fill out all the required information, select Create Clan.
At this point, you'll be directed to your Clan page, where you can chat with members, update your Clan settings, and more.
You have to recruit at least 2 people before your Clan, roster, and banner appear in-game.
What are the clan perks?
Clan perks can include a wide range of benefits for the clan members. The benefits include getting Legendary Engrams, extra Glimmer or extra Faction Tokens, etc. How good your perks totally depend on the weekly performance of your clan and its members. Clans can move up an extra level every time they earn 1 lakh XP collectively.
But every member can only contribute 5,000 XP in total each week. XP for your clan can be earned by playing in strikes and raids, as well as completing quests and adventures in the game.
Own your Destiny 2 clan:
Now that you have created your clan, you need to make it stand out from the rest of the pack in order to attract new members to your clan. The first thing you need is a great banner. Your flag will be visible for players to see.
That makes it easy to recognize the clan as they make their way throughout the game. Bungie gives players a robust set of creative tools to make it more perfect. These are usable in both the mobile app and in an internet browser. Both platforms give you the same set of options.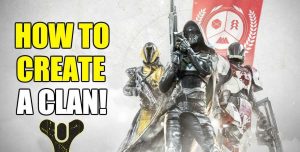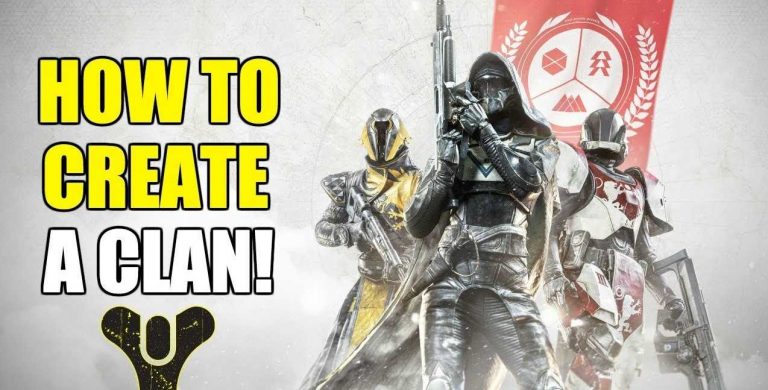 These tools allow you to pick an emblem foreground, banner emblem, background colors, extra banner details, and an additional banner and detail color. The possibilities are not endless, but they do allow you to get somewhat creative.
To start earning extra clan rewards once you have chosen your preferred colors, be sure to talk to Hawthorne on the Farm. She will provide your clan banner inventory items, which level up as your clan completes certain activities or tasks.
How to join players in Destiny 2 clans
Inviting new players to your clan is not as easy as you think, it really has a bit involved. To invite another player to your clan, you must first make sure that you are either the person who made the clan or the clan's administrator.
If you are not in any of these roles, you will not be able to invite anyone else directly. Only the Founder and Administrators can invite players to a clan and there are no voice services available particularly through the website itself.
However, this can always be supplemented for PC users by utilizing applications like Discord or Skype. There is a text chat room, however, which is great if you want to try and organize times to meet up or see if anyone can get online to help.
For players who insist on being alone, you can actually browse clans via the Guided Games system in Destiny 2 for help. This won't cause you to join, but simply fill in a slot if a clan needs someone to finish an activity.
In the event you have the permission to invite the other players, you will need to add them as a friend before you can send them a clan invitation. To do this, you have to locate them in-game, inspect them, and invite them to the clan from the menu.
Alternatively, any player may request to join their clan through the in-game interface or by following a direct link to the Bungie.net clerk page. One needs to be able to talk to them outside of the game to send a link, either via mobile or some chat-client like Discord or Facebook messenger.
Interact with your clan:
You will want to use a headset or camera in order to talk to your clanmates while playing Destiny 2, but when you are preparing for a raid or scheduling activities for the week, you can also make use of Bungie's built-in online chat feature for your advantage.
Just click Clan Chat on the left side of your clan management page, and you will be able to talk to everyone in the group, and even turn on notifications so you do not miss any messages.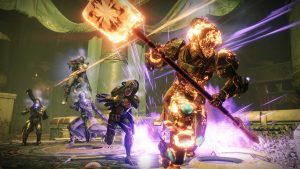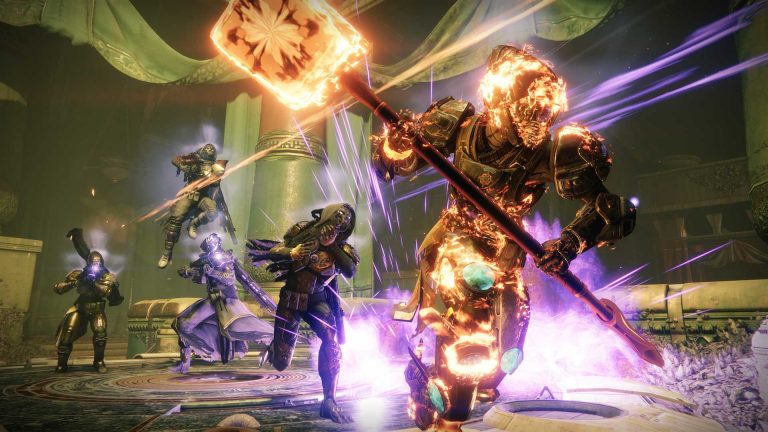 For larger clans, there are even administrator-only and fire team options. So you can keep relevant information organized more clearly in-game.
You can organize a clan forum in the companion app too. To create a thread in the forum, click your clan's banner and select Forum from the menu that appears.
Then tap the pencil icon in the upper-right corner to create either a New Topic or New Recruitment Topic. Here, you can add polls, ideas, and even links to the videos. A tag option also lets you better organize threads in-game.
Conclusion
So that was how to create or join Destiny 2 clans in the Destiny 2 game. The game is really great and additionally, the game likes to throw extra little incentives for completing clan activities.
One of the vendors in the game's central hub world will offer quests that you and your clanmates can complete on a daily and weekly basis. You can complete these offers to unlock rewards for everyone in the clan.
As you start to get really addicted—I mean serious—to the game, you'll find that the biggest benefits offered by clans are in the ways they enable you to take on its most interesting and challenging pieces of content: raids.
Because Destiny raids are unique in that they're PVE challenges that require six players to work together as opposed to the typical fireteam size of three, finding a time that works for you and your crew might prove challenging.
Bungie's clan system lets you communicate in-app and even schedule raid times with one another. You can even then sync the schedule to your Google calendar.
Note: Each account can be in only one Destiny 2 clan at a time. You'll need either multiple accounts on one platform or an account on several platforms, to join different clans. Interestingly, it seems like you can join the same clan multiple times with several different accounts.
Hope you'll find the game more entertaining than ever before. Thanks for reading the article. Hope you found it helpful.