PUBG is a renowned term that all of us must have probably heard by now, which is very much bookmarked among the masses. It is the compendium form of PlayerUnknown's Battleground. Basically, it is a multiplayer online battle royal video game and has become very prominent and viral and is played by billions of people around the globe.
Due to its popularity, people are very much eager and are searching for various tricks and cheat codes to excel in mobile gaming.
The game has well-enhanced graphics which allows users to access even with lower-tier processors and cheaper smartphones.
It has an in-build audio communication inbox which lets you communicate with your team members during the matches for better reach and strategies and good co-operative tactics among the teammates, and above all, it has exceedingly excellent gameplay.
Battle royal basically means all are against all, a bit like The Hunger Games where you start with nothing and have to scavenge and collect weapons and equipment. The game is ultimately a battle to the last player standing, with 100 players on an 8 x 8 km island.
There are three modes of play: solo, duo, and squad, with the latter letting you team up with three other players for a team of four.
PUBG Mobile streaming started as a leisure activity for most of the current streamers on YouTube. However, within a couple of years, their hobby has transformed into a full-fledged career with considerable fame and fortune. These days, streamers across the globe spend hours streaming PUBG Mobile content for millions of subscribers, these are the five most popular PUBG streamers.
CarryisLive (India-5.96 million subscribers)
Panda (Sweden- 6.15 million subscribers)
Atro (Netherlands-6.44 million subscribers)
Levinho (Sweden-6.87 million subscribers)
Dynamo Gaming (India: 7.7 million subscribers)
Extensive multi-player support and an enriching game-play experience are the most popular reasons for the popularity of PUBG in India.
One of the major things in PUBG is the way you control and manage your game because control in the game is very essential to play the game just like a pro, which usually comes after practicing on our skills so as to manage the balance and control in the game.
PUBG has a flexible and adjustable gameplay management system for the players that easily permit them to play with their favorite design so as to provide ease and excellence to their players.
A few players have a tendency to harness and employ the thumb arrangement in order to reinforce their game plan while others avail to use 3, 4, 5 up to 6 finger paw gameplay choices in order to enhance their responsiveness along with their reflexes.
Before making arrangements and affectability, ensure you have your Peak and Fire and Peak and Open Scope empowered with the goal that you don't need to ultimately uncover yourself and take shots at your objectives by remaining behind a spread.
Whirligig is an additional component in the game that can support your response time. Acclaimed players, for example, Mortal and Sc0ut, utilize a 4-finger setup.. Let's see the control setups and come to a conclusion, "Why is four finger claw setup" is the most effective of all the control systems.
Two-Finger / Thumb Control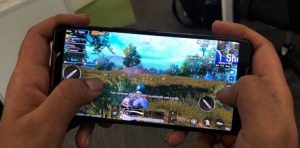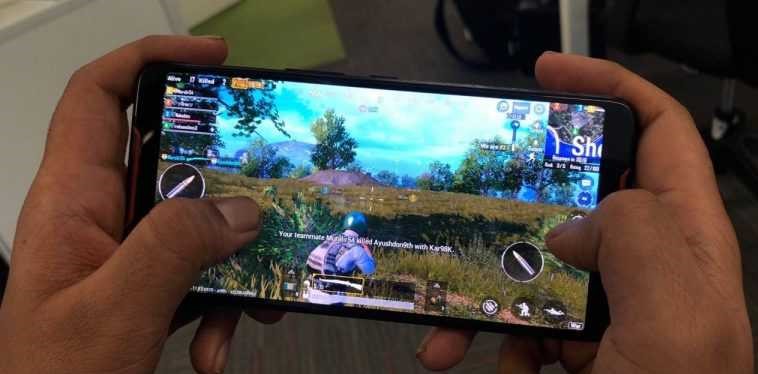 Each player has a different approach to the game and uses different types of layouts in the game to gain an edge over their opponents.
In this setup, the players use two thumbs to play the game while holding the device using the other eight fingers. This setup is usually used by players who do not have a big device. This setup is dependent on the swift movements of the thumbs.
To date this is the most used and convenient type of control for nearly most of the players are most of the people have small devices, this is how the game was primitively started its existence. The alignment of buttons is obviously customizable according to the player's wish but in principle, it involves moving with one finger/thumb and looking with the other.
In times of hassle and hurry, you will need one thumb/finger to fire due to which the other finger/thumb is very much essential for either looking sideways or moving back or front. Two-finger control is perfect for beginners with small devices.
While using this setup, it is advisable to adjust the layout as indicated by your solace and screen size. In this management, the left thumb is utilized for development, while the other thumb is being used for aiming and shooting.
The choice of Peek and Fire and Peek and Open Scope is empowered, which assists with taking shots at an objective while remaining behind spreads.
It is generally needed to have a higher affectability when a player is using the two-finger square plan.
The camera settings are for the development of the camera point. These settings ought to likewise be on better quality when contrasted with different arrangements.
These are exceptionally significant in-game settings. These settings become an integral factor while shooting.
Affectability depends on close to home inclination, and subsequently, it is quite essential and important to renew the settings according to the prerequisites.
The very big disadvantage in this 2 finger control management system, which happens to be is the fact that you cannot look, move and shoot all at the same time it is not very multi-tasking and a smart way of playing the game due to which the effectiveness and efficiency are lost.
The upside is that this is a technique that does not require very smooth and excellent skills to use for playing the game. Engagement with an enemy usually occurs at a pretty far distance where the most convenient and safest trick is to take cover and return fire by only looking around the prone area and not moving from the place you are hiding or standing.
Gamer Athena uses the two thumb control and is exceedingly efficient at killing players with it. But the most important thing is why thumb gameplay is not so good as compared to 4 Finger claw on PUBG Mobile.
Firstly, In this entire article, I will let you guys know why 2 thumb gameplay is not a better option, and then I will let you know you know why 4 finger claw PUBG Mobile setup is very professional for enhanced gaming performances.
PUBG 4 Finger Claw Layout Code 2023
If you are just looking for the 4 finger claw PUBG mobile layout code then your search is over. Here are the top 3 most popular PUBG 4 finger claw layout codes used by many gamers and steamers.
Layout 1 – 6974-6998-1946-2820-026
Layout 2 – 6960-4897-8808-0654-298
Layout 3 – 6960-4897-8808-0564-299
If you don't know how to set PUBG 4 finger claw layout code in your game, follow the steps given below:
Go to the "Settings" tab
Click on the "Controls"
Now Go to "Customize"
In the Customize go to "Layout Settings"
Now finally click on the "Search Method"
Paste your desired 4 finger pubg layout code given above and Save the settings.
This automatically applies the layout for you in the game and you don't need to set the layout manually.
Four Finger Claw Control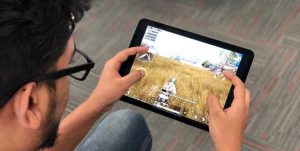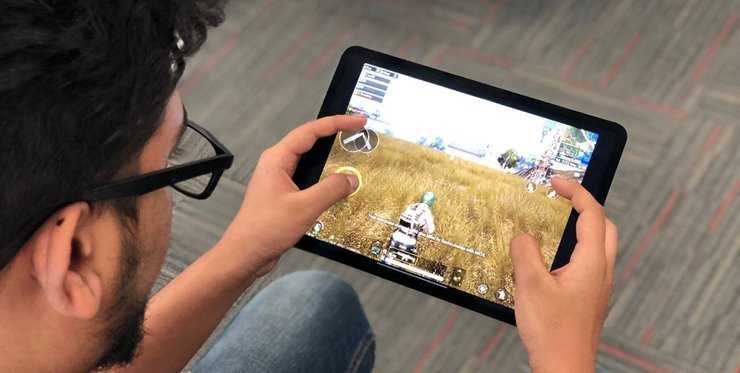 This is one of the most used layouts by pro players. In this, the players use four fingers while holding the device with the other 6, creating a claw-like movement. The players use this setup as it allows them to move, shoot and jump simultaneously in a very effective and precise manner.
In terms of gameplay, 4 finger claws is relatively the best way to assert dominance.

4 finger claw works best on big screen devices like the iPad.

The PUBG 4 Finger claw layout is amazing because your 2 fingers are on Aim + Fire and the other 2 are on movement + changing camera angle.

It is very easy for you to perform all the things at the same time using PUBG 4 finger claw setup, like Aim + fire + movement + camera angle + jump.

If you learned to control PUBG 4 Finger Claw then your PUBG Mobile gaming performance will skyrocket in a couple of days.

Most of the Pro Mobile gamers use PUBG 4 Finger claw layout.
The most prominent and major reason is that in close combat this technique allows you to jump, move, look around and shoot, all at the same time which is amazing. Players who have excelled in this technique are almost always hard to kill and get injured in almost every game.
For instance, when your squad is trying to kill another squad in a house in any close combat, 4 finger claw gives you an amazing and astonishing advantage over thumb controls on the stairways when the enemy is shooting from above your head.
Far range combat works almost the same way, with the player having the additional ability to jump while shooting to avoid returning fire which is actually a very big advantage over the other techniques.
Four finger claw on a phone is difficult due to the small screen size and you'll have a hard time learning it, but if you master it, you can wreak havoc. Now you know, why 4 finger claw is best. So, I am going to show you, What exactly you need to do for shifting from thumbs to 4 finger claw in just 3 days.
In the guide below, we would list out some of the recommended settings for 4 finger claw setup and Mortal's own setup.
These are the optimal setup and sensitivity settings for 4 finger claw style players. Using this setup, your reflexes would definitely get more efficient than the usual thumb techniques. While you can implement the entire thing – it is highly recommended that you better alter them based on your devices and preferences so that they can emerge victorious in your PUBG Mobile game.
Best 4 Finger Claw Layout in 2023
Follow the steps given below to change the settings create a Simple 4 Finger claw layout in PUBG Mobile to enhance your gaming performance.
Step 1: Open PUBG Mobile and Click on Settings, Open PUBG Mobile game, and click on setting (located on lower right corner) to create a layout.
Step 2: Click on Controls then Customize, Firstly, Click on Controls then click on Customize to customize the layout.
Step 3: Replicate this 4 Finger Claw Layout of Mortal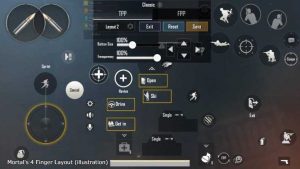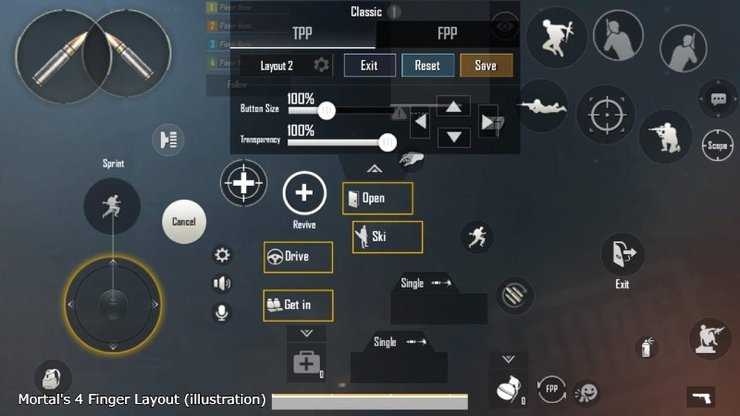 Step 4: Hold the Phone and use 4 Finger claws like this, This is a way to hold the phone and use the 4 finger claw in an effective way.
Step 5: Start Playing
Before going in for playing, you might want to enable the Peak & Fire along with the Peak & Open Scope so that you could shoot at your target while staying behind a cover. Gyroscope is also a great feature as well. This setup would help you perform a lot better in close-quarter fights and spray down your opponents with ease.
Your right thumb would cover the aiming part of the opponent while your right index finger would do the peak, jump, and crouch during the required time.
The left side would cover movement and shooting while attacking the opponent – the analog should be kept the same, as it is really hard to train yourself to be familiar with it and it is difficult to deal with it on small devices.
The next step after completing the new layout is to set the appropriate sensitivity. Below are the options for both Gyro and non-Gyro: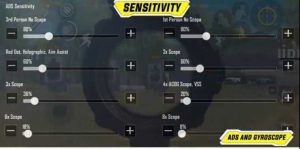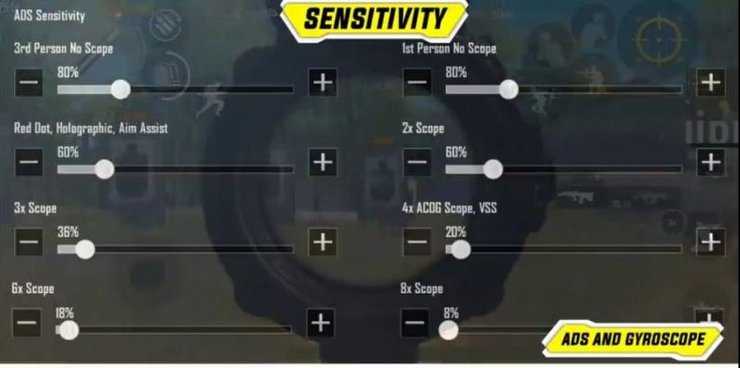 4-finger claw sensitivity settings for non-gyroscope user:
No Scope: 80%
Aim Assist, Holographic, Red Dot, 2x Scope: 60%
3x: 36%
4x: 20%
6x: 18%
8x: 8%
4-finger claw sensitivity settings for gyroscope user:
Aim Assist, Holographic, Red Dot, 2x Scope: 300%
3x: 240%
4x: 225%
6x: 200%
8x: 80%
You also need to modify your ADS sensitivity to 1 when using the gyroscope.
Air Triggers
Triggers are external devices that are made specifically for playing games on smartphones. These unique devices have buttons that depict a human finger touch, and help players have more control and command over their games. Triggers help replace the famous four-fingered grip style, making it easier for players to play the game.
The major inclination towards these techniques is that while your index finger controls shooting and scoping, you are too much hassle-free to look sideways and move alongside at the same time while distracting your enemy.
However, unless you have proper triggers that are durable and reliable, it could be possible that after a certain frame of time, the capacitive button does not send a signal effectively to the screen.
In many important games, it could mean the difference between life and death.
Conclusion
As I mentioned that 4 finger claw grip is the most efficient way to play the game but in the end, everything depends on how often and by what means you play the game and obviously how much you are comfortable in using which technique.
Our motive was to help you enhance your skills and make you a better or can say a pro player. As in the end, it is the comfort zone of the player along with his luck that helps him to excel in the game.
However, if you are looking to progress in the game would ask you to incline yourself towards, mastering the four-finger claw which is the most logical and efficient.
Thanks for reading. Hope you found this article helpful.