Top 3 free fire emulators for PC blue stack alternative Free fire is a great survival shooting game for Android and ios users which was published by Garena and developed by 111 dots studio. This game has been highly popular and also won the of the 'best popular vote game' of the year 2019 by Google play store.
Also, it the most downloaded mobile game in the year 2019. The free fire has registered over 450 million users and of which 80 million are daily active users.
It is a royale battle game in which you are placed on a remote island every 10 minutes and then you have to play against the other 49 players, who are all fighting for survival.
Also, you are free to choose that from where do you want to start the game and for how long you want to remain in the safe zone of the game.
The game consists of 50 players. Who starts the game by jumping off the plane using a parachute and lands on an island and then the players need to look for things like utility items, weapons, medical equipment for killing your opponents. As you move forward in the game.
The warzone keeps getting smaller and it forces the players to stick in those areas and face more encounters. And the last person or team who survives in the battleground wins the game. This game is quite similar to games like pub g mobile.
But unlike pub g this game works even with the least amount of resources and consumes less storage. So if you want to play this game on your pc or macOS, then we will tell you how to make it possible. And if you are new to the gaming world or a casual player and want to be better at this, then starting with the some best free fire emulators will be a great option.
Free fire is the ultimate game. So you have to be fast in the game and your reaction time for switching actions should be short in order for you to quickly carry forward. As you have only ten minutes for that. But the problem comes up when your device takes a long time before you can change the story. It happens mostly you Mobile Device doesn't have a multi touch screen.
So it's better and recommended that you play free fire with an emulator, which offers you great control over the game. As you have only been provided 10 minutes for each round so you need to be really quick with the switching of your actions and many smartphones are not good enough to perform many commands at once.
So, playing free fire on your mac os and pc can be a better option. Also, in order to have better control in the game, you can use emulators.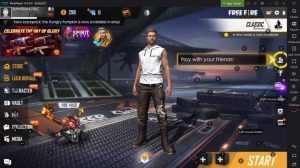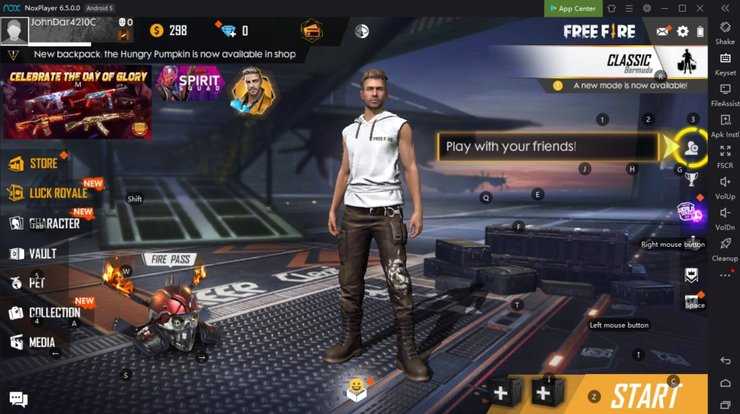 Why Use Emulator?
Gaming always feels better on big screens. So play free fire on pc is much better than playing it on your smartphone while struggling. Playing free fire on PC comes with more benefits than drawbacks.
Big screen with a great virtual environment.
Having control over the keyboard and mouse are the major benefits.
Ability to use scripts.
There are many emulators that allow players to play free fire on PC, like bluestacks and game loop but today we will see some of their alternatives in this article.
Emulator or Simulator?
An emulator has the aim of taking the original ( for our circumstance) mobile device. It copies every bit of the primary device's lead, both equipment, and programming. It performs the entirety of the equipment the real device uses, allowing the equivalent application to run on it unmodified and the entire item.
A simulator creates a near safe atmosphere to the primary genuine gadget's operating system. However, it does not attempt to reproduce the original device's hardware.
So you will see the OS and the interface of the device you need to use. You may not experience all the issues caused by the equipment. Some applications may run fairly well, which is an important motivation behind why the test systems aren't truly reliable.
Advantages and disadvantages of Android and iOS emulator
Advantages:
It is a less expensive solution.
You can find unexpected behavior with this.
It runs the application without modifications.
It is open-source and is free.
It Imitates both hardware and software.
For early testing, it can be connected to an IDE.
Disadvantages:
As it simulates hardware and software both.
Because of which the smartphone emulators work slowly.

They might work on a certain operating system.

Good emulators are expensive and take time in setting up.
It doesn't consider things like drainage/ battery overheating or issues with other applications.
Now the question arises which emulator is the best?
There are so many options available out there that choosing the best one among all can be a really tiring process and also time-consuming. For a laptop or mac, there is a whole range of factors for Android emulation.
But bluestacks is considered as one of the best and a reliable option for playing free fire on pc. However, we have selected these 3 alternatives of bluestacks which are popular and also safe android emulators. Which will give you a great experience playing free fire on a big screen with customized keyboard control.
1. NoxPlayer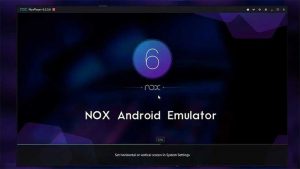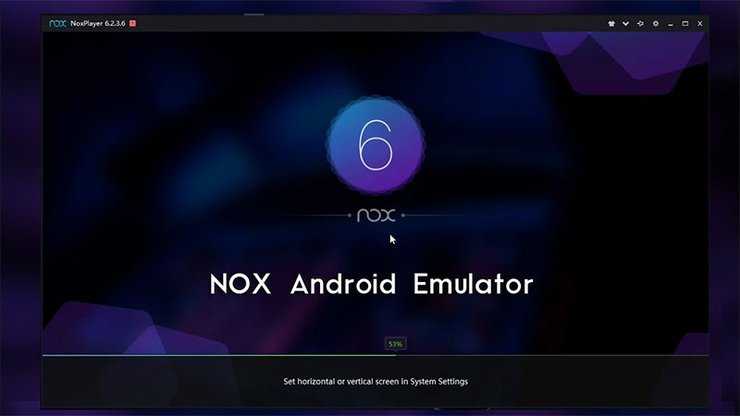 Noxplayer Nox is one of the best emulators for playing free fire on pc because it is small in size and is very compatible with Windows. It is a fast, sleek android pc and mac emulator same as bluestacks app, based on Android 4.4.3.
this is quite old but that would not be a problem, with most of the apps. It is built in collaboration with gamers so it allows you to add other applications from the Google play store. And offers you an android portfolio. This creates a great virtual environment for you to play free fire there.
This is a very stable app and is very popular because it can support both windows and mac. With this app, users can map the keys as they like.
Noxplayer's UI is very simple and easy. With the keyboard and mouse control, it also lets you have the gamepad control. And a lot of gamers claim it to be an excellent emulator for their pc, for low-end computers especially.
It is available for macOS, so you can have fun playing free fire on MacBook or an iMac.
To download Nox player your system must have these configurations –
Minimum storage of 2 GB.
Intel/ dual-core AMD.
Minimum 2GB RAM.
VGA: minimum of 2 GB.
2. LDPlayer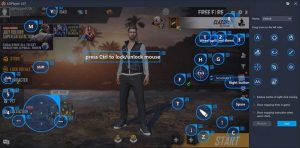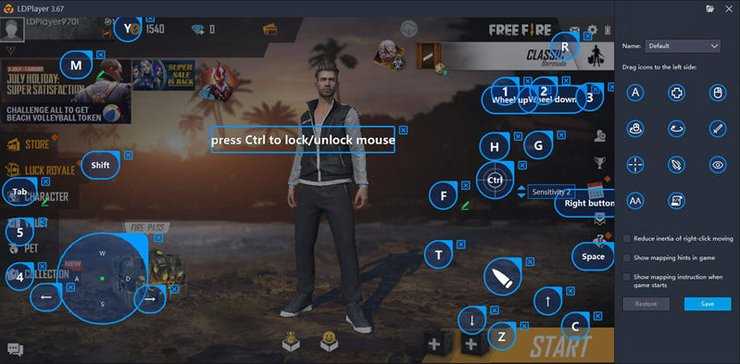 It is another emulator that can be used for playing free fire on a PC without bluestacks. LDPlayer supports a variety of high-performance compatibility, high graphic smartphone games on PC, and is based on Android 5.1.1 and 7.1.2. it was released in 2016 and comes with some great features and is free.
It uses the best virtualization which will give you a satisfactory gaming experience. It will run smoothly on both computers and laptops with basic configurations. As it is also small in size so you will not face any trouble playing free fire using LDPlayer.
Just like Noxplayer, it also allows you to have control your game character by keyboard and mouse. Also, There development team has provided some keyboard macro features that will allow you to make any actions while playing the game just by clicking the hotkey.
Requirements for downloading LDPlayer:
2GB RAM minimum
Intel/ AMD
Minimum 36GB storage
Windows XP or higher operating system
Graphics driver
3. MEMU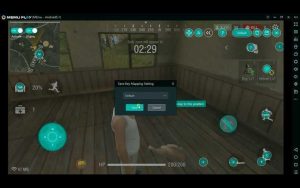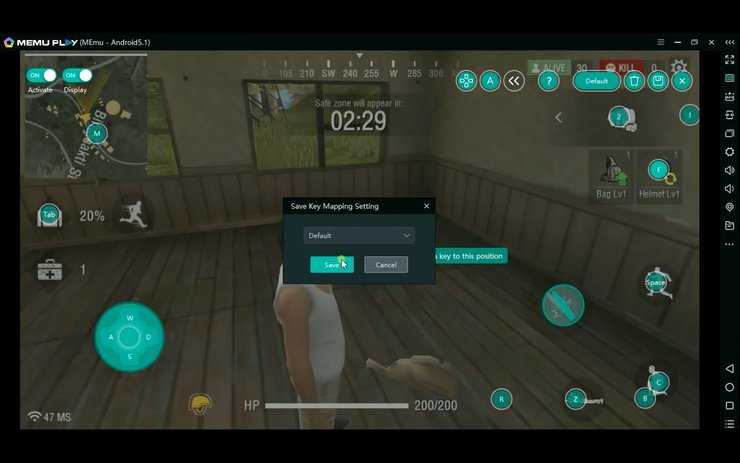 MEMU is Another emulator to help you play free fire on pc. Just like the other two emulators mentioned above this one is also small in size and will let you play free fire smoothly using this.
MEMU offers you better control over your mouse and lets you a fascinating keyboard experience. Here are some functions which MEMU provides for some keys to play free fire –
Key F: Adding functions of 'Loot', 'Eject', 'Use', 'Drive'
Key G: Adding the function of 'Get in the vehicle' and 'Dive'
Key N: Adding the function of 'Switch grenades'
Key F1: Solving the problem of the stuck mouse
Key Tab, ESC: Adding the function of 'Auto enter/leave shoot mode'
MEMU helps you to play Free Fire on PC easily.
System Requirements for MEMU :
OS: Windows Vista / Windows 7 / Windows 8.1 / Windows 10.
CPU: Intel/ AMD.
GPU: OpenGL 2.0.
RAM: Minimum 4GB
Storage: Minimum 2GB
Another way
Another way to get free fire on your PC instead of using emulators you can use the prime operating system. It is an android based operating system for PC. It has functions similar to emulators used for Android. But it gives more benefits than using it on the Mac or Windows.
The prime operating system uses less RAM than emulators. Once it is installed you can run it separately and using the resources completely without taking up RAM. This helps the system to work faster while playing.
The prime operating system will give you a smooth gaming experience. And it works well even on the system with 2GB RAM without facing many issues.
Emulators take a long time to start and boot but with the prime operating system, it works fast and takes the user directly to the home screen. It is also free to download.
Conclusion
From what we have seen and tried we mentioned these 3 emulators for playing free fire on PC. Each of them has its pros and cons. You can choose from these 3 emulators for an excellent gaming experience.
You can choose one according to your needs. Make sure that your PC fulfills the basics requirements for emulators to run smoothly before installing.
Thanks for reading. Hope you found this article helpful.