League of legends is undoubtedly one of the most popular game in the world. With the release of the league of legends, a competitive ranking system came into play in the gaming industry.
League of Legends was first released in 2009 by Riot Games and has been growing in popularity ever since, not only as a mere form of entertainment but also as a money-making device owing to its presence in eSports.
The basic premise of the game is to destroy the opposing team's nexus – a protected structure located within the enemy's base.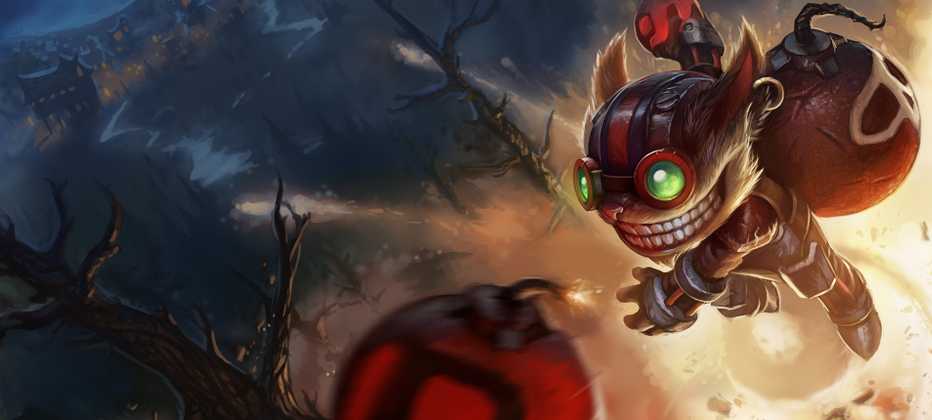 The player acts as an invisible summoner who then controls a uniquely skilled champion in order to battle the opposing team of other players and conquer the rival's nexus. Its unique characteristics differentiate it from other games, which is why the league of legends became so popular.
League of Legends is a free-to-play game and its monetization is based on microtransactions via special in-game currency called Riot Points, with which players can purchase champions, champion skins, ward skins, summoner icons, and multi-game boosts. Are you wanna know about How Does League of Legends Work?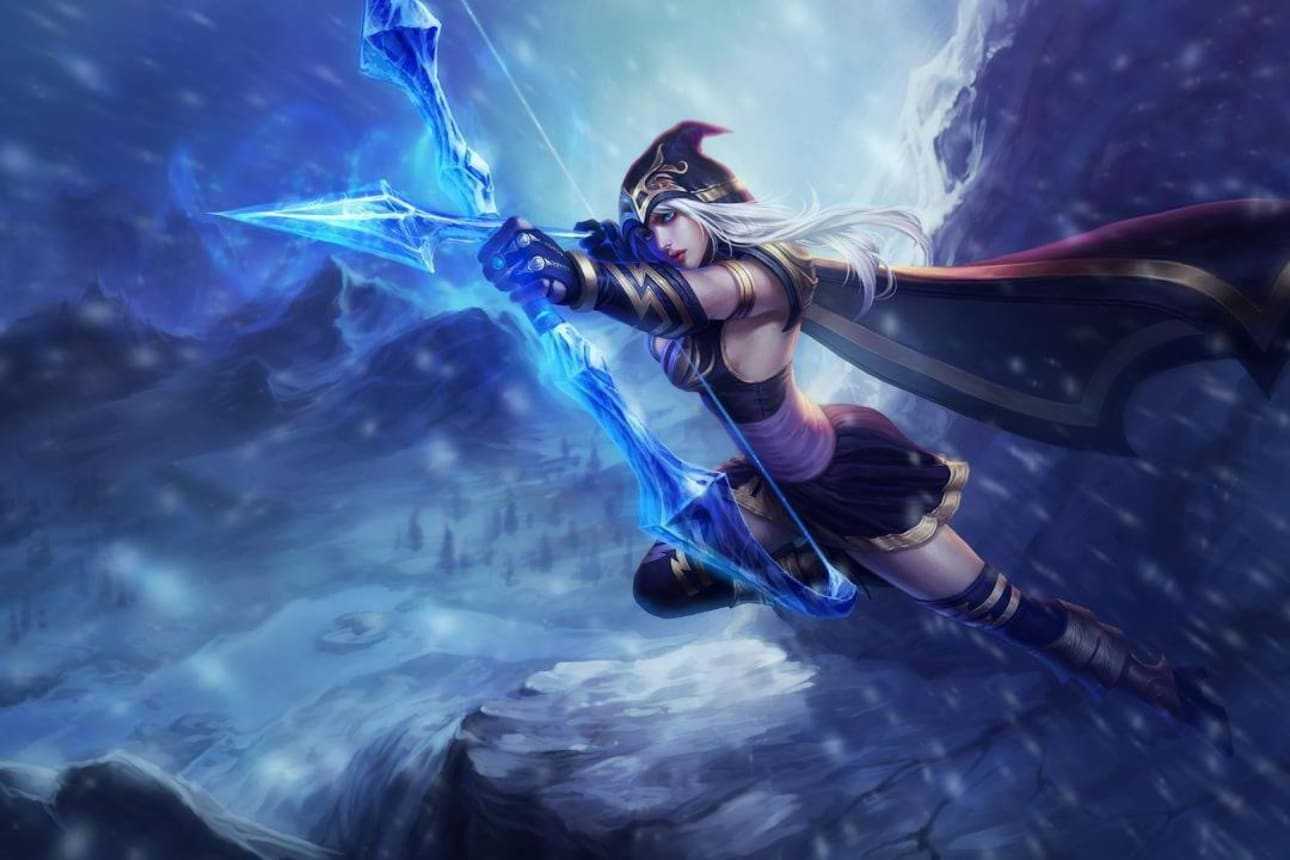 The average annual spend on this in-game content stood at 92 U.S. dollars per gamer in the United States in 2019. Given the success of this revenue model, it comes as no surprise that League of Legends revenue has consistently exceeded one billion U.S. dollars worldwide in recent years.
Despite being over 10 years old, League of Legends consistently ranks as one of the most popular video games in the United States.
The game's enduring popularity can also be seen in the fact that it is played across all age groups, with 40 per cent of League of Legends fans in the United States falling in the 25 to 34-year-old category.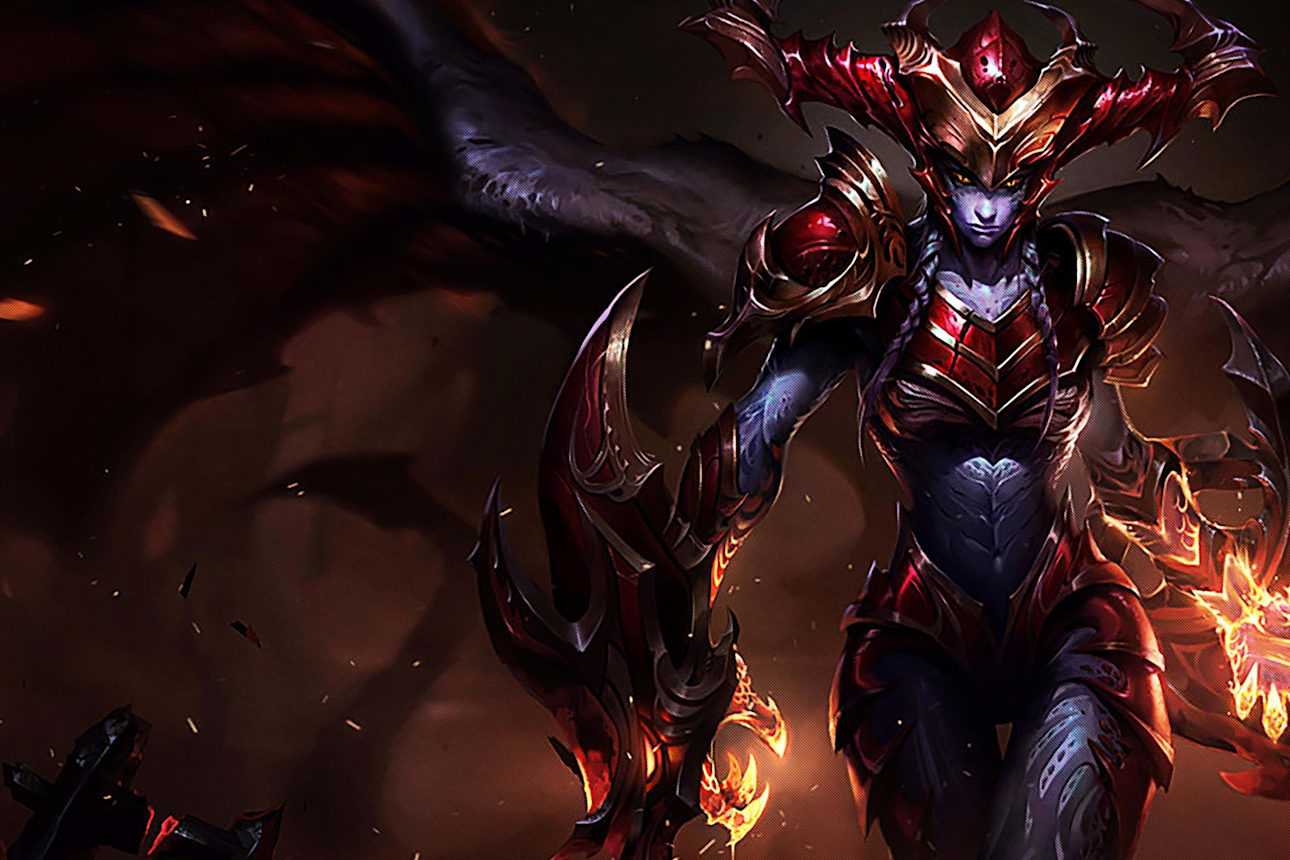 Much like many online games of this genre, League of Legends is mostly played by male gamers – in fact, an estimated 86 per cent of the game's fanbase in the United States is male.
Because of its multiplayer format, League of Legends easily transitioned from at-home entertainment to international sport. Each year, hundreds of professional tournaments take place around the world and culminate in one major event called the World Championships.
The prize pool for the League of Legends World Championships peaked at 6.45 million U.S. dollars in 2018, before falling to 2.23 million U.S. dollars for the 2019 tournament.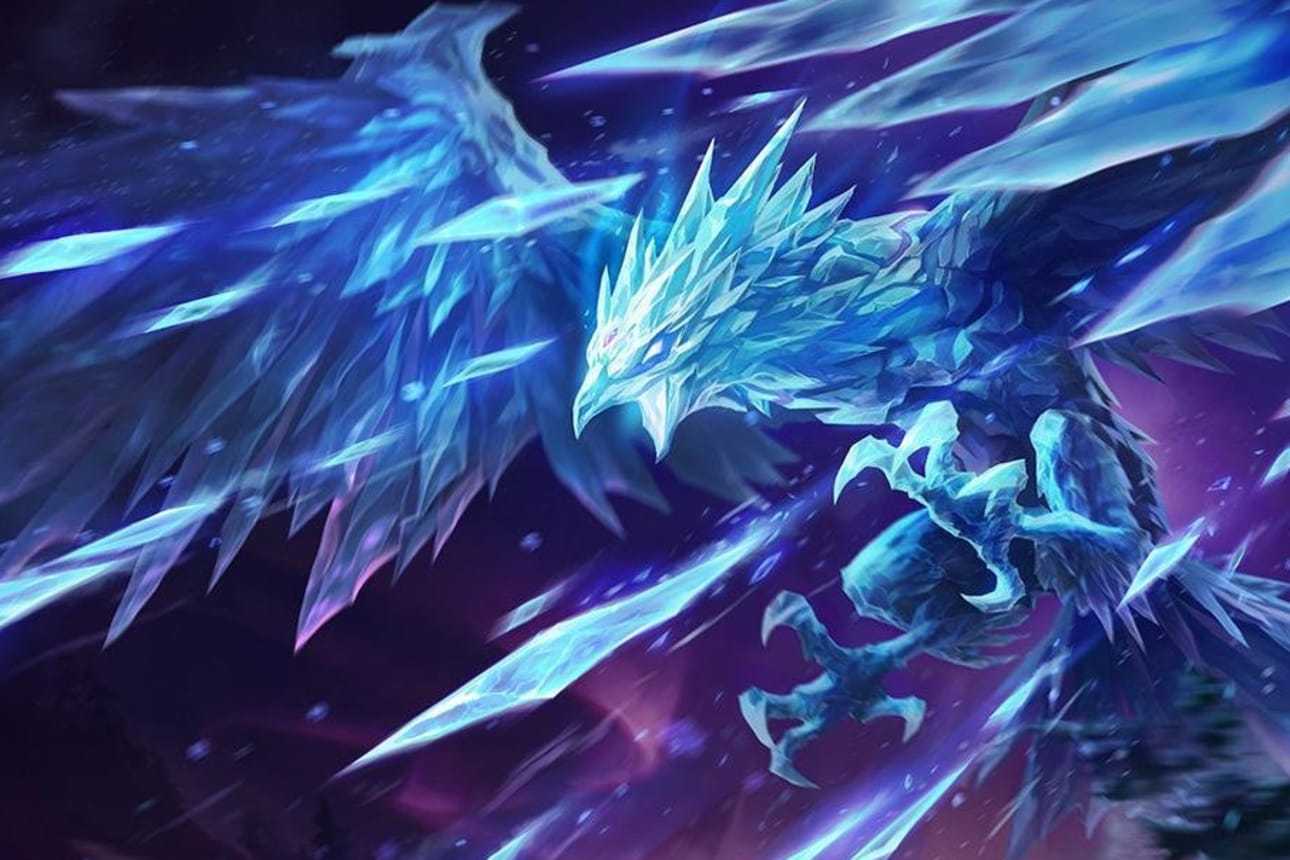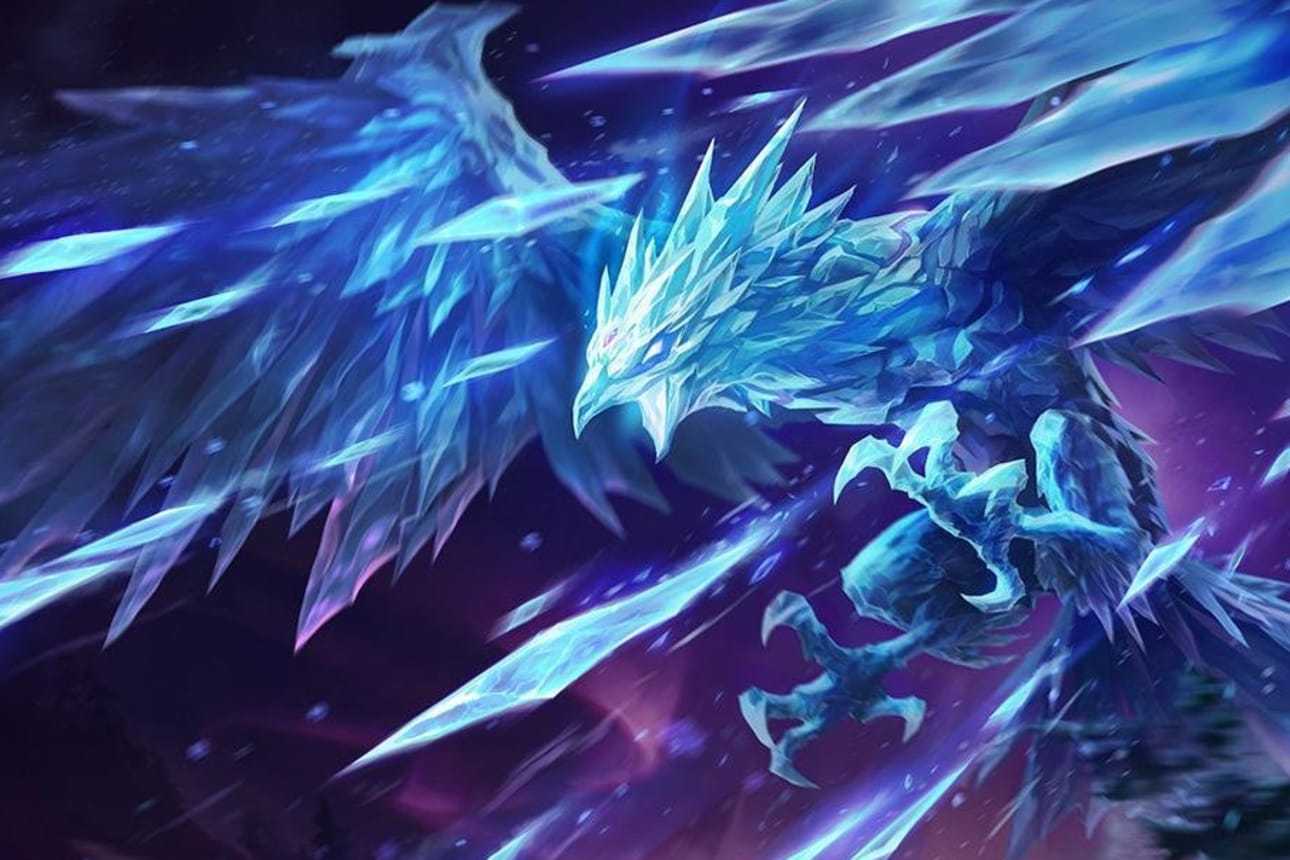 This latest edition of the tournament took place in Berlin, Madrid, and Paris, and the prize money awarded to the winners of the final, FunPlus Phoenix from China, reached almost 835 thousand U.S. dollars.
With such large amounts of money at stake, it is no wonder that eSports viewers watch on in their thousands to see who will come out on top.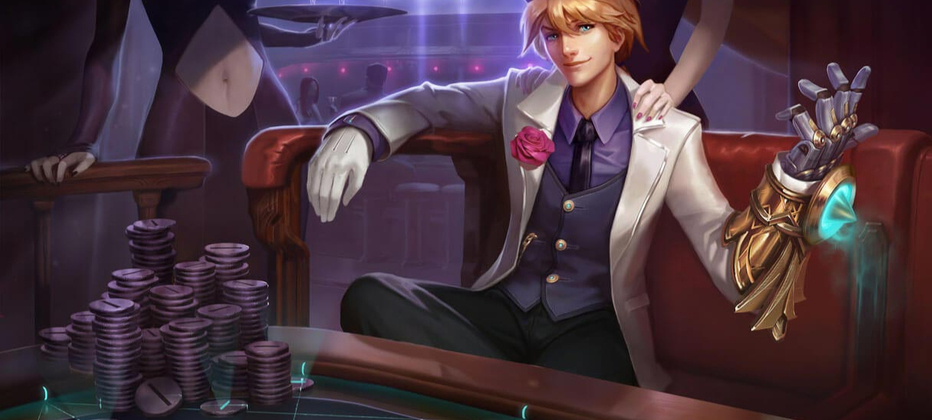 The average viewers of LoL on streaming platform Twitch has been steadily on the rise, with events watched by an average of over 190 thousand viewers worldwide in  2021.
Despite the game entering its second decade on the market, its popularity among gamers and eSports viewers alike shows no signs of slowing down.
How big is League of Legends?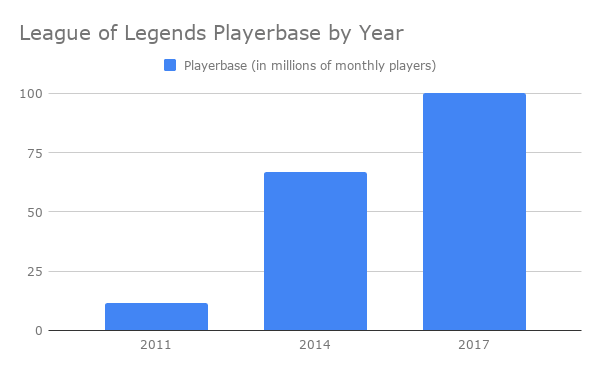 Its player count has grown year by year and is now one of the most played multiplayer games in the world and the most played Esport in the world.
It started in 2009 with a few hundred thousand players, quickly gained traction, and reached 11 million players by 2011, which then again takes a huge leap to 65 million players in 2014 and a further bigger leap to 100 million players in 2017. The league of legends also hold the record of most number of players playing at the same time, i.e. 1.3 million in 2011.
After that, it had a slight drop in its player count to 75 million in 2018 but has made a comeback in 2021 with a range of 100-120 million players. Are you looking for How to Get Blue Essence Fast?
League of Legends Player Count Graph
Riot Games revealed a League of Legends player count graph in 2011. What we understand from that graph is that League of Legends in 2011 had 32.5 Million registrations, 11.5 Million monthly players, 4.2 Million daily players, 1.3 Million players playing at the same time.
But League of Legends was not the only thing that had grown during the period, Riot Games the Developer of League of Legends had also grown five times their size to 300 total employees.
They had also included stats such as how many minions were killed, how many champions were killed, how much gold was earned etc.

In the next year 2012, Riot Games released another statement about League of Legends player count. They had again given an infographic to help understand the state of the game in 2012.
What we can learn from that League of Legends graph is that League of Legends had 70 Million registrations, 32 Million monthly players, 12 Million daily players, 3 Million concurrent players.
They had also given other information such as League of Legends has been played for more than 1 Billion play hours every month and the main age group from 16-35.
Fast-forward 2 years into the future, In 2014, Riot Games released another official statement giving details about the state of League of Legends. This time they had not come with any infographics but rather straight up information.
From the statement released by Riot Games, we understand that League of Legends, in 2014 had 65 Million monthly players, 27 Million daily players, and 8 Million peak concurrent players.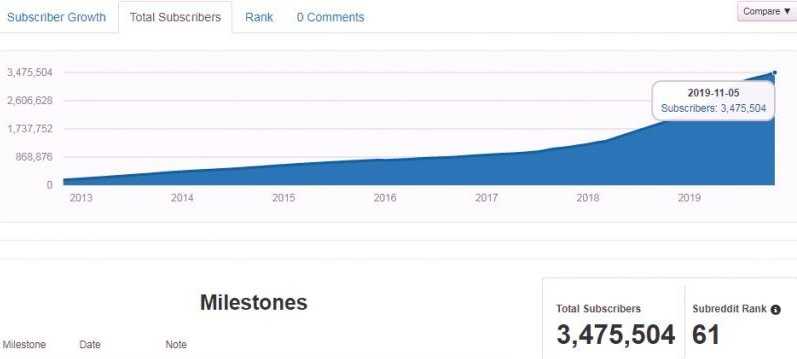 In 2017, it got 100M players. But Riot did not release any statement when they reached this mark, but according to analytical data and certain League of Legends graphs, we understand that the player count had reached about 100 Million monthly players.
In 2018, the player count dropped to 75 million. But League of Legends has gained back its position in 2021 because of the number of Events they held and the amount of marketing that had been done.
And now in 2021,  League of Legends has reached a total of 115 Million monthly players according to recent data and has become the King of Games.
In 2021, the league of legends is going to touch the 130 million mark with ease.

With constant releases of new Events, Tournaments, and Champions, League of Legends has become one of the most played games in the world. League of Legends literally has at least one game started every second in the world. That's a mind-boggling statistic.
Game STATS
League of legends was officially launched in 2009 and since then it managed to secure on an average 1 billion hours of monthly gameplay. League of legends has registered 70 million total summoner names. Even though the league of legends have completed a decade, Its popularity is still increasing among gamers. In just a span of 3 years, The average hours of gameplay were 10.5 million every day, which is equal to 1,197 years. 15 billion champions and 200 billion minions were killed and players earned a total of 21 trillion gold in the time period of just 3 years. After that Riot, the game has not released any other stats but everyone can assume from the give figures.
How many people play League of Legends in 2021?
League of Legends has a 115M monthly player count and a peak of 50M daily players. With 115M people playing League of Legends from over 145 different countries, it shouldn't come as a shock to how many people enjoy playing League of Legends even after a decade.
League of Legends has had a total of $75M as price pool money in all of their Tournaments held all over the world. Having a $75 Million Esports investment so far really shows how big League of Legends is and if that is not enough to convince you, let us compare League of Legends with other games.
Dota 2 only has an 11M monthly player count and a 1M Daily player count.
Minecraft is one of the most popular game categories on Youtube, and one of the most famous games all over the world is competing with the league of legends. That puts a really good perspective on how big League of Legends really is. Are you looking for How Many Skins are in LoL?
League of legends competitors
League of Legends vs Dota 2
Let's get this straight, League of Legends and Dota 2 are the most popular MOBA genre games. The league of legends is ten times bigger than its biggest competitor Dota 2. League of legends has a whopping 115 million user base and 50 million daily active players, while Dota 2 only has 11 million user base and 1 million daily active players in 2021.
League of legends vs Minecraft
Minecraft is the biggest and most popular game on gaming platforms such as Youtube gaming and Twitch. In 2021 Minecraft has a player base of around 125 million which is only 10 million more than the league of legends player base. These stats show how big the league of legends is compared to other popular games.
League of legends vs CS: GO
The best and highest rated FPS game in the world, CS: GO. It was released in the year 2012 and immediately gained a lot of user base. While CS: GO is considered the best FPS game in the world, its user base stands at only 26 million monthly players which are 1/4th of the league of legends(115 million).
Teams and Players
Several League players face the fan-fatigue that NBA or NFL players live through. Lebron is considered one of the best basketball players to ever live, but another basketball fan may think the opposite.
As the esports industry grows and expands, fan views and opinions weigh heavily on players. Søren "Bjergsen" Bjerg is a mid laner for TSM and is considered one of the best LCS players.
Even as Bjergsen struggled throughout the splits in the last few years, on paper, he still managed to lead the league in KDA and kills. This tends to be a frequent occurrence in the LCS.
However, the narrative is slightly changing, as Yilliang "Doublelift" Peng, one of the more popular names in the NA League of Legends has shifted the spotlight over to Bjergsen.
One of the best marksman players in the world is Gen.G's Park "Ruler" Jae-hyuk. The former world champion was on Samsung's World winning roster in 2017. Since that team rebranded to Gen.G, Ruler has been their franchise player.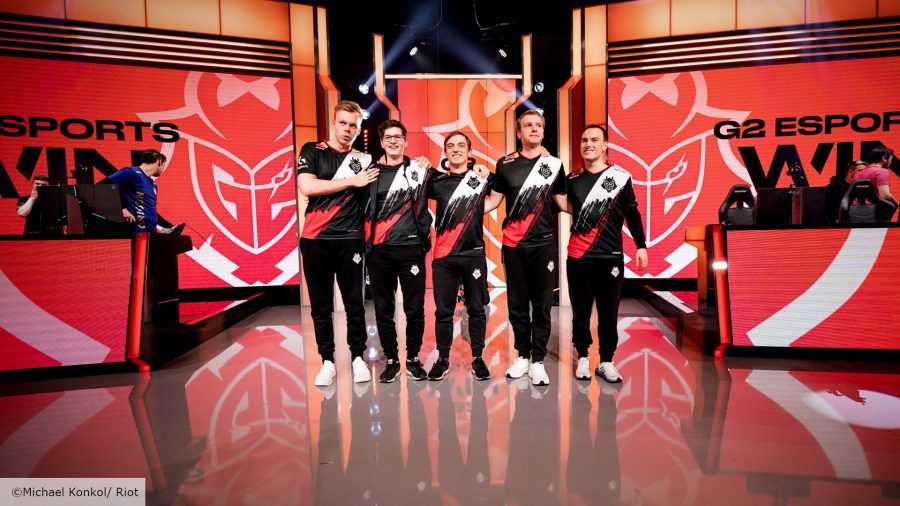 Now that Gen.G has finally made it to Worlds 2021 after a period of absence, Ruler's strength in 2021 makes him feel as deadly as he was in 2017.
The most important thing about this narrative is that Ruler has brought former T1 player Kim "Clid" Tae-min and other names in Korea to his side, showing the world he is still a capable marksman superstar.
Lee "Faker" Sanghyeok is a South Korean League of Legends player for T1. Faker is known for his highly technical gameplay along with the ability to play almost any champion flawlessly.
Faker is one of the only players, along with his former teammate Bae "Bengi" Seongung, to have won the world championship three times.
T1 offered a new contract to Faker with an "unprecedented" offer that would keep him on the team in 2018. As of 2021, Faker is part owner of the T1 organization and an active player in the team even after all these years at the top.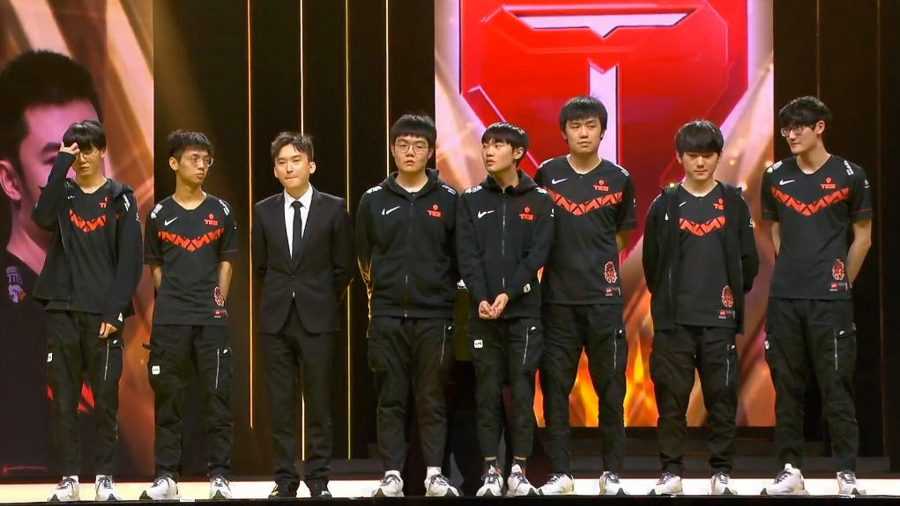 Although, as alluded to, there is another international star gunning for Faker's prestige. The new superstar in the LPL known as the knight is killing it in 2020.
Top Esports has had this prodigy on their team for years at this point. Now that all the other parts of the team are at a superstar level, the knight is the knight in shining armor. Knight is the LPL Summer Split MVP with seven first-place accolades.
We haven't seen a player like this in a long time, and perhaps this is the year he begins his mid-lane dynasty against the world.
Biggest Tournaments
The League of Legends World Championship is the yearly professional LoL championship hosted by Riot Games. At the end of each season, teams compete in the championship for the title, the 70-pound Summoner's Cup, and the $1 million championship check.
In 2017 over 60 million people tuned in to watch the championship, which crushed the previous year's record of 50 million. The LOLWC has been praised for its ceremonial performances and broadcasting quality.
In 2017, over $2 million was raised through sales of the 2017 Worlds Championship Ashe skin, which went towards player salaries and prize pools.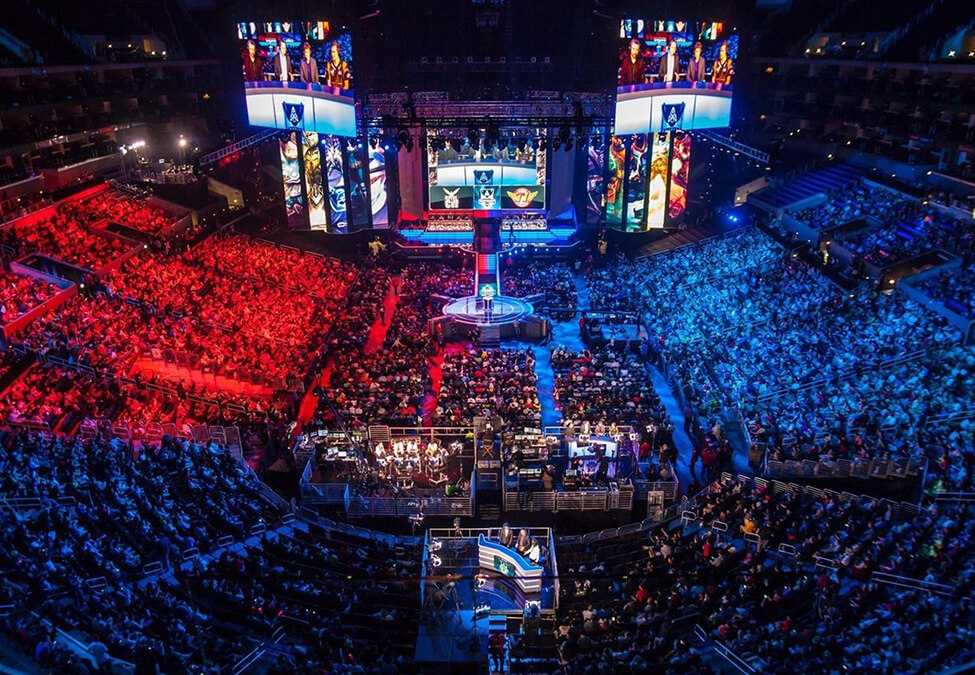 The Mid-Season Invitational (MSI) is a yearly League of Legends tournament that has been held since 2015. It is the second-most important tournament of the year besides the World Championship.
The MSI marks the halfway point of the season as the Spring Split champions from each of the five major regions compete. The MSI features five of the major competitive teams from each regional league along with a wildcard team from a lesser-known region.
The wildcard team is picked through the International Wildcard Invitational, which is held a few weeks before MSI.
League of Legends esports
Professional League of Legends competition is overseen by Riot Games, the studio which created the game. League of Legends is one of the world's biggest esports, with competitions taking place all over the globe.
There are four leagues at the top level of the professional League of Legends competition, with each taking place in a specific region.
The League of Legends Championship Series (LCS) is the main competition in North America and Canada, the League of Legends European Championships (LEC) takes place in Europe, the League of Legends Champions Korea (LCK) operates in South Korea, and the League of Legends Pro League (LPL) takes place in China.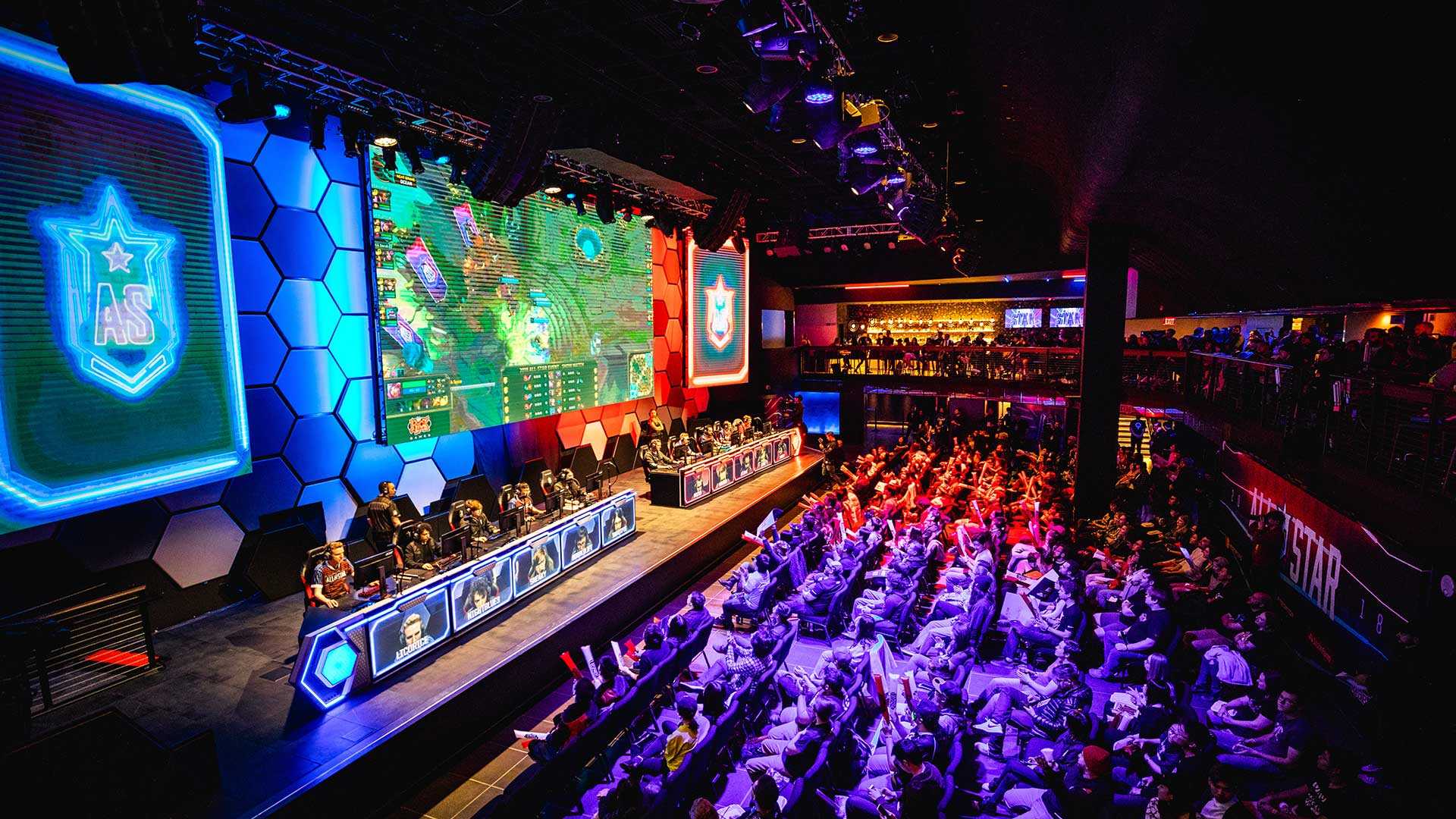 Competing teams gain points relating to their performance in competitions held throughout the year, with the ultimate aim being qualification for the League of Legends World Championship.
The 2019 World Championship, held in locations across Europe, offered up a total prize pool of $2.2m. The winners, FunPlus Phoenix from China, went home with $835,000. The tournament drew a peak concurrent viewership of 3,985,787.
In total, the league of legends had 5,580,255.87 dollars of prize pool money till date and 69,363,810.93 dollars of prize pool for offline tournaments. A totoal of 75 million dollars of prize pool money in all of their tournaments.
Biggest Leagues
As of 2018, there are 14 professional 'League of Legends leagues around the world. As for the League of Legends World Championship, there are five premier leagues that have three allocated spots, while the rest is split between the nine remaining regions.
Here is how it breaks down:
LEC– European League
LCS– North American League
LCK– Korean League
LPL– Chinese League
League has a worldwide professional scene that has been established with regional leagues along with numerous annual international tournaments. Hundreds of players around the world practice daily to keep up in ranks.
Along with gaming comes additional training like agility workouts, mechanical skills, teamwork, and personality training.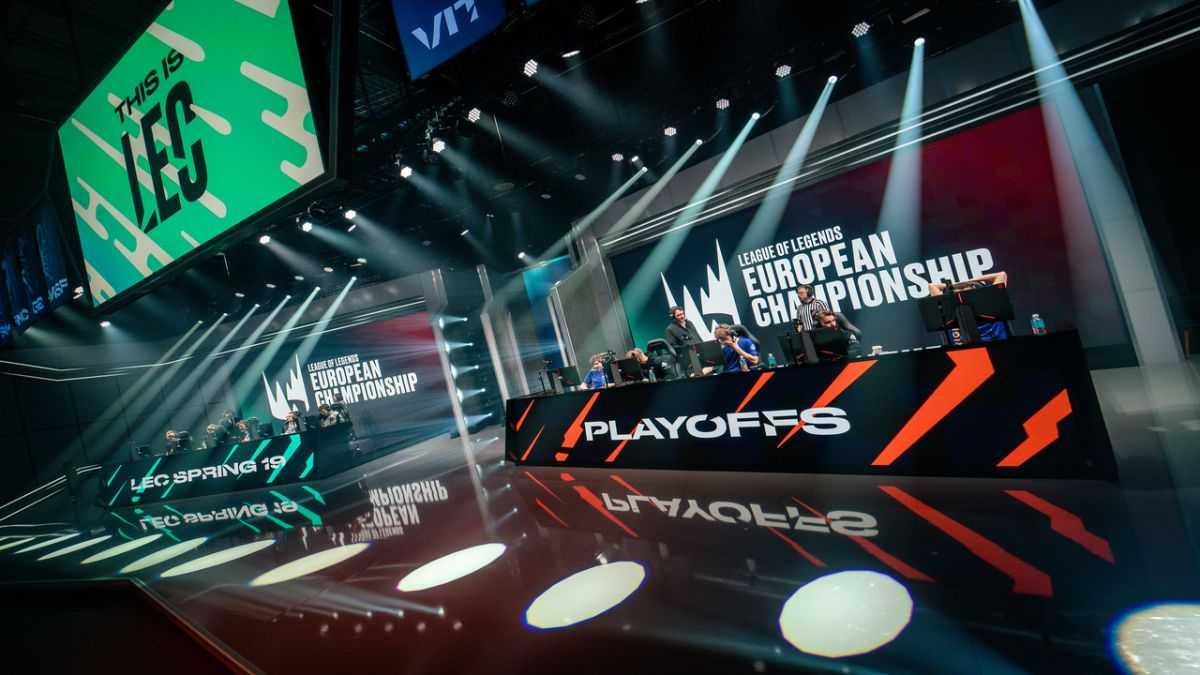 Most professional gamers retire around the age of 21-23. It has been scientifically proven that reaction times begin to lower around the late teens to the early 20s. However, even after competitive gaming, players continue to establish their brands.
Many pros stream themselves playing and practicing so fans and supporters can interact with them. Many players will practice for 6-8 hours a day with their team through scrimmages and game footage, however, that is not shown to the public. Most of the fun starts around dinner time when players are out of "work".
Imagine sitting down and watching Payton Manning or Steph Curry warm-up for a game. Imagine asking questions towards the best players in the game, and interacting with them on a one-on-one basis.
This is how streaming helps propel players to household names. Players are allowed to interact and chat with fans while answering questions and helping newcomers with strategies and tips.
We have talked before about how complicated the League can be, however, Riot Games is always on the case. For each game that is streamed online, there is a cast of commentators and announcers whose jobs are to explain the game and breaking down the hype.
Of course, over time League will be easier to follow. But until then, Riot knows how complicated League can be on the surface, so they have you covered.
Frequently Asked Questions
What are the top countries in the League of Legends fanbase?
Below you will find stats on the top 5 countries by active daily participation. United States – 14.44%, Turkey – 9.26%, Brazil – 9.11%, Germany – 5.97%, Russia – 4.98%.
How many people play League of Legends in 2021?
League of Legends has a total of 115 Million monthly players in 2021.
Which game is bigger? Dota 2 or League of Legends?
League of Legends and Dota 2 are the biggest games in the MOBA genre, and no other game comes even close to these giants. League of Legends' player base is significantly larger, and it hits peaks of over eight to ten million players per day.
What is the highest player count at one time in the league of legends?
This figure may be in the region of 8-15 million. League of Legends to this day remains one of the most popular games in the world, and we provide HQ accounts for every taste and continue to love the game and our customers.
Is League of Legends a dying game in terms of play rate and fanbase?
League of Legends is surely not a dying game. It is in fact paving the way for the gaming industry and eSports to break out of its niche audience and into mainstream media. The league of Legends will touch the 130 million monthly player base in 2021.
With its efforts in both the competitive arena and involving their content creators, League of Legend's stats is through the roof compared to all the other games.