The Long Dark is indeed a challenging survival game. Those who are aware of the game know that it features a clothing system thoroughly layered. However, it is indeed true that figuring out the most appropriate clothing is quite challenging. It gets especially tough when there is no data. A player should possess clarity about the right items and the ones one can harvest for cloth.
There are various factors taken into account for evaluation. For example, one needs to consider the item's level of warmth, windproof characteristics, waterproof, etc. As far as a survival game like The Long Dark is concerned, clothing is a protective covering against various elements.
The long dark best clothing guide thus matters for players. Putting on layers is crucial for maintaining warmth. However, one must realize that wind is the biggest challenge.
In this context, clothing provides a range of safety from coldness. Also, it protects the person from the chilled wind. There is the threat of clothes turning wet due to snow blows. Also, falling within the water makes them insignificant. Additionally, it boosts the threats of hypothermia. Also, the threats of frostbite remain there.
Most importantly, one needs to keep the clothes drier as it is possible. Ultimately clothing can safeguard a person from a whole range of injuries in physical form, like the instances of falling and getting entangled through wildlife. The perfect balance of the entire aspects against the weight and mobility factors affect wholesome clothing.
In the game, clothing primarily is a term meant for products that one can armor to help achieve bonuses. It certainly thus helps the players all across the gameplay. However, there are absolutely no constraints associated with wearable. Instead, one can witness the entire clothing bonus over the status screen.
The Way Clothing Works In The Long Dark
The long dark clothing guide is quite obvious to be extensive. There is every reason behind this, though. First of all, every single player and the associated situation differ. However, there is not going to be an explicit development that works beyond all others. But, there remain still several options that stay beyond the others in a whole range of situations.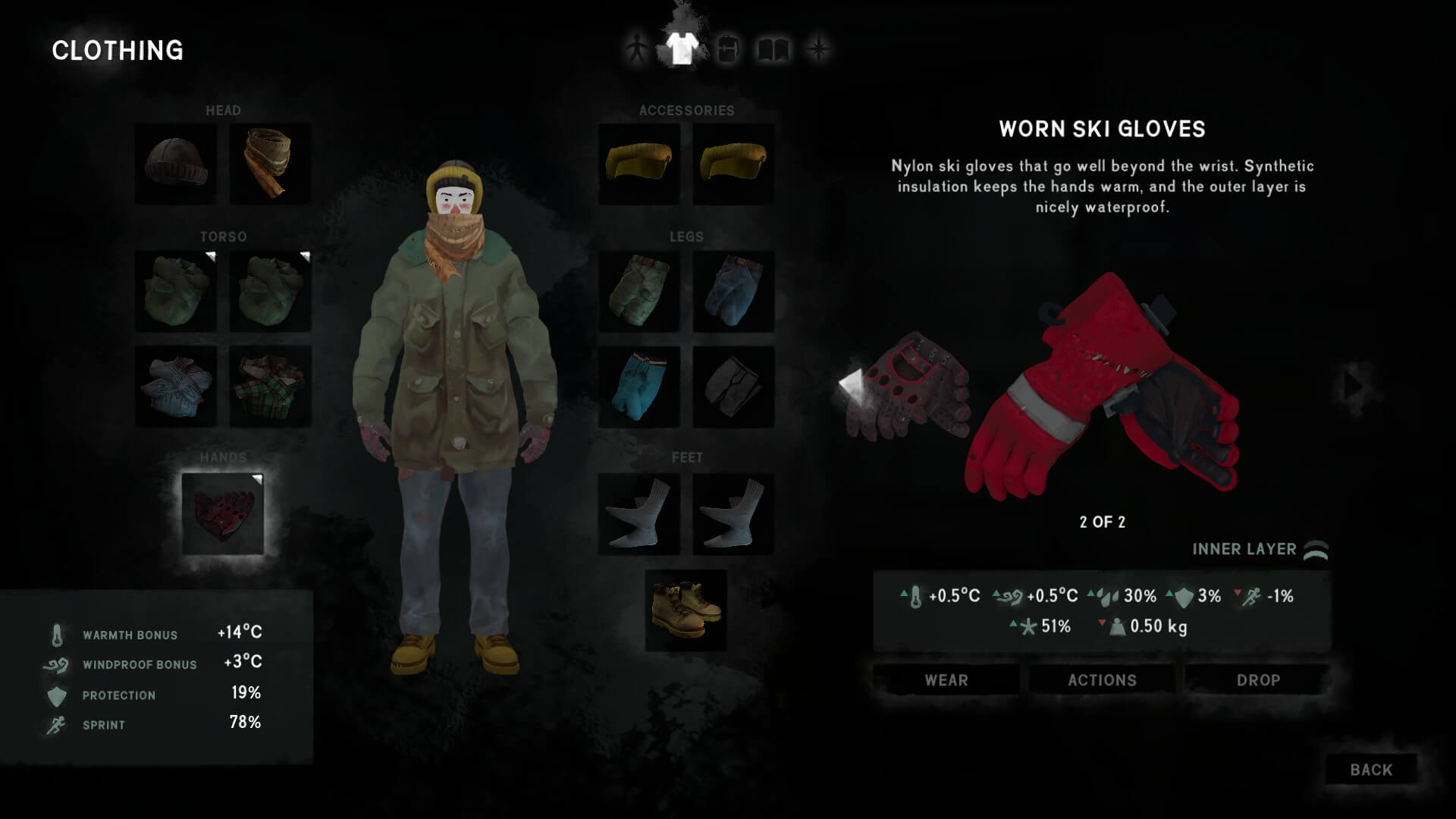 Consequently, for figuring out the optimal clothing, eight aspects are essential to be taken into account. Most importantly, there remain six that the game provides.
The prime factors include warmth, windproof, waterproof, protection, mobility, weight, and the ratio between weight and warmth, and in the end, the cumulative rating.
Best Of The Clothing One Must Know In The Long Dark
One can quickly get an idea about long dark best clothes upon breaking the same down in item slots. Also, one may group the ones who can meet well with the present slots as a whole. It will be useful for the players in terms of efficiently comparing a couple of items.
Most importantly, it will be effective in figuring out the specific items that will provide them with a significant edge on the way. In general, the experts rate every single item considering different aspects. Undoubtedly, this can be taken into account to decide whether it has to be worn or not.
1. Head Clothing
The long dark accessories like Balaclava, Rabbit skin Hat, and Wool Toque hold the highest ranking. To be specific, the Balaclava holds the best ranking. Rabbitskin Hat comes next in terms of ranking, and then comes Wool Toque. However, one can wear the Balaclava explicitly over the head slot at an inner level.
On the other hand, one can wear the Rabbitskin Hat at the external head slot. In short, it is essential to combine one with the other well. Anyway, it is true at the same time that the full headgear as part of the Long Dark is relatively light.
However, in general, the experts don't pay a lot of priority over the weight and warmth ratio.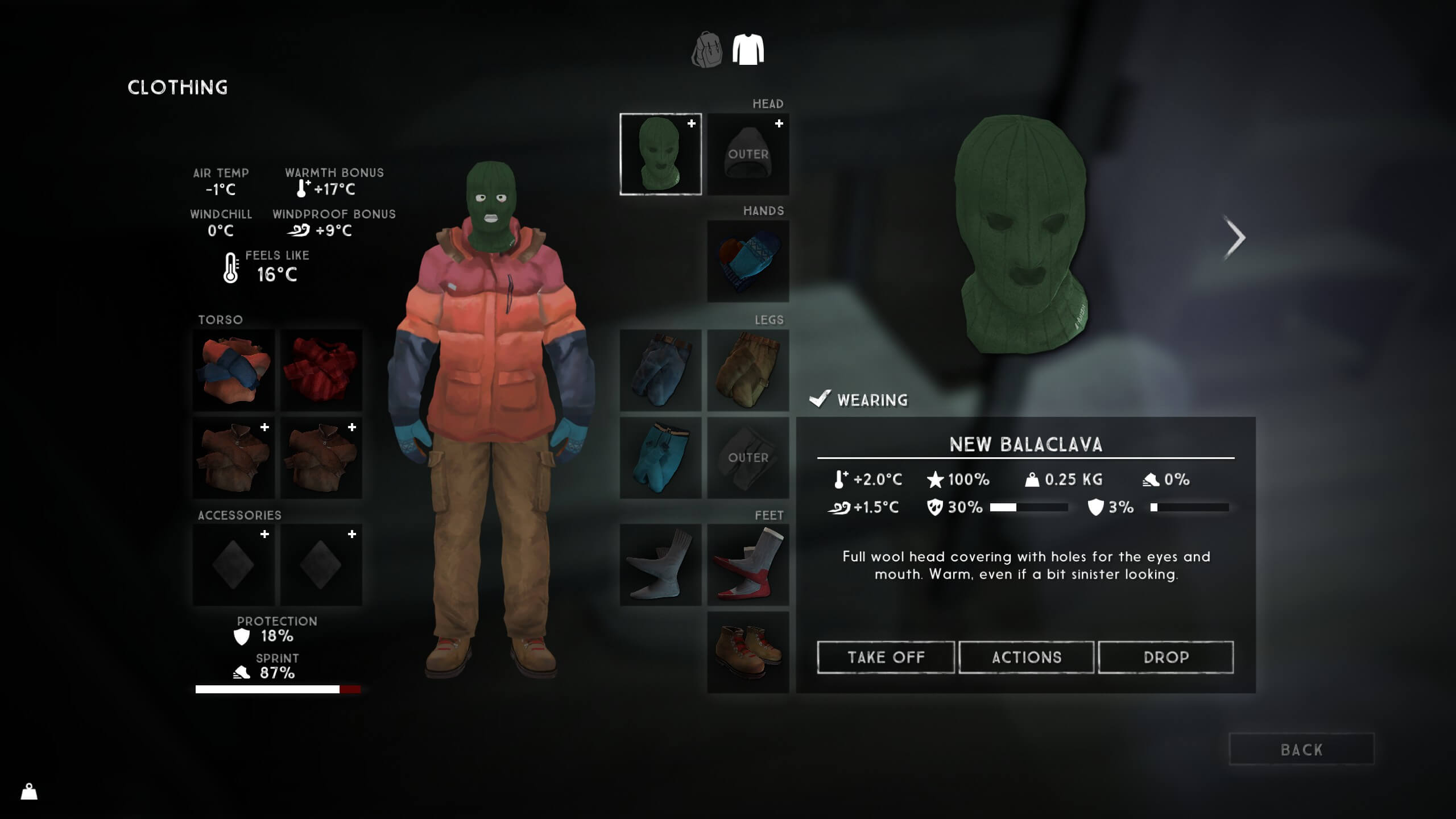 Instead, their greater focus remains entirely upon the warmth, along with the other aspects like windproof, protection, and waterproof. On most occasions, the mobility factor is not taken into account.
After all, no headgear is going to change the equation. In general, it is preferred among many to wear Balaclava at the inner slot.
Also, many do prefer Rabbitskin Hat at the external slot. This is going to provide a warmth boost of 4 degrees.
Simultaneously, it will boost windproof by 3 degrees and a boost of 30 percent in terms of waterproof characteristics for each item, apart from 7 percent with protection. Above all, one needs to ensure zero loss of mobility and weight of only 0.6 Kg.
2. Hands Clothing
Hands clothing is indeed a crucial aspect of long dark clothing in general. A subjective rating often involves certain aspects that might not be readily accepted among all. However, one must understand that the Hands slot is not a platform to let mobility go as we make most in different other segments.
Again, the most valuable aspects are warmth, and windproof, protection, as well as waterproof. The critical aspect here is that it doesn't appear at a significantly massive loss of mobility. Often people speculate a lot regarding the weight and warmth ratio.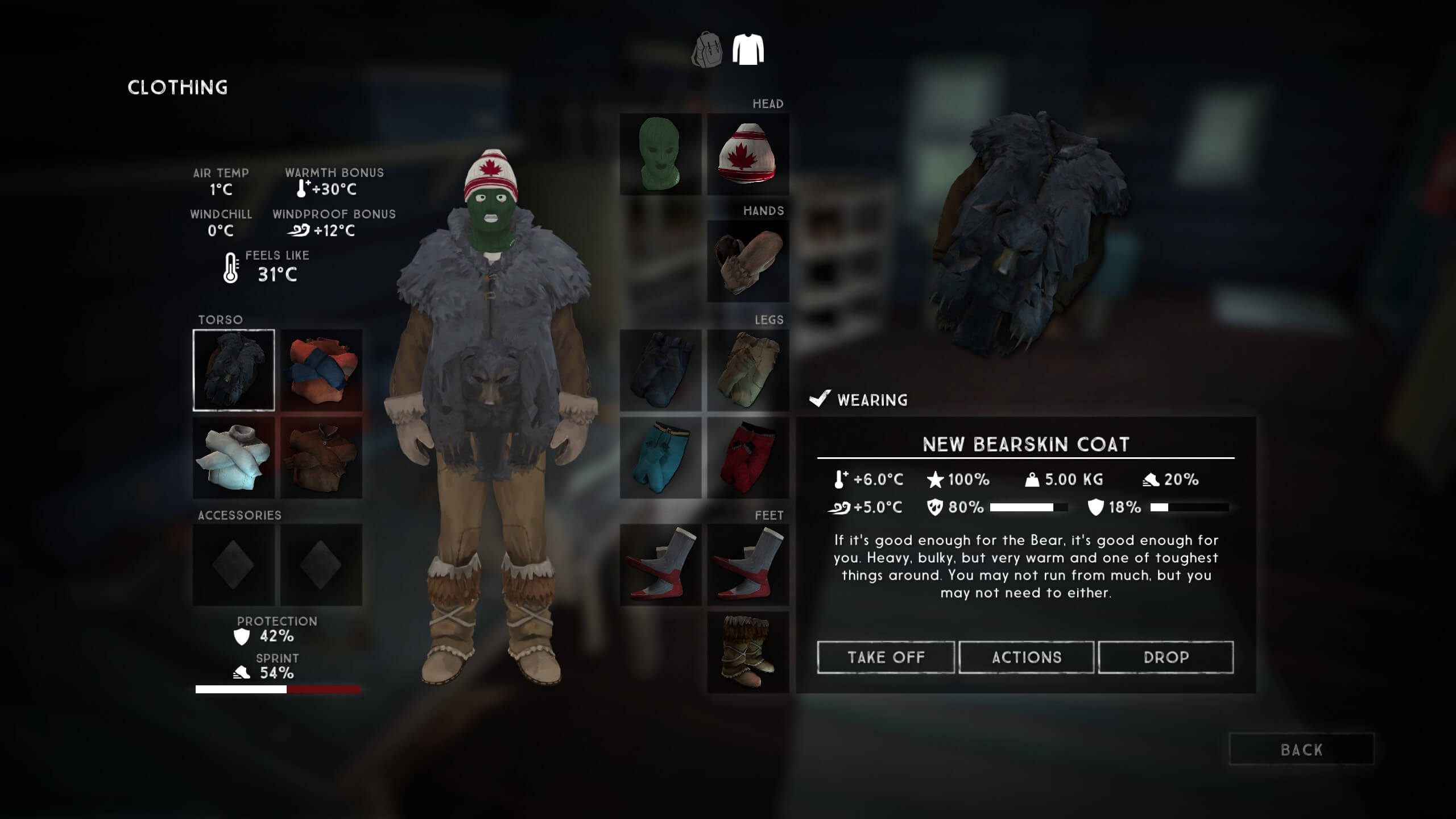 However, the gloves are certainly not the destination one can waste valuable inventory zones in the long dark. This is the reason that most experts don't even consider the likes of Ski Gloves and Gauntlets. To be specific about the Ski Gloves, it holds the characteristic of redeeming. This is the aspect that makes it stay distinguished.
However, gloves in the Long Dark come up with plenty that one can wish of. By default, the Wool Mittens are the most significant picks primarily because of their nominal weight. Also, its critical warmth rating makes it meaningful.
Apart from this, a useful waterproof rating and a small amount of protection even matter a lot. In short, it will be a great idea to look for this through the long dark clothing chart.
3. Torso Clothing (Inner Layers)
It is undoubtedly true that to put on a t-shirt within the Long Dark is not a good thing. Instead, each of the players must look for the Fisherman's Sweater. It would be even better to wear both of these. Best part, both are quite warm. At the same time, being warm or providing warmth helps in maintaining dryness as well.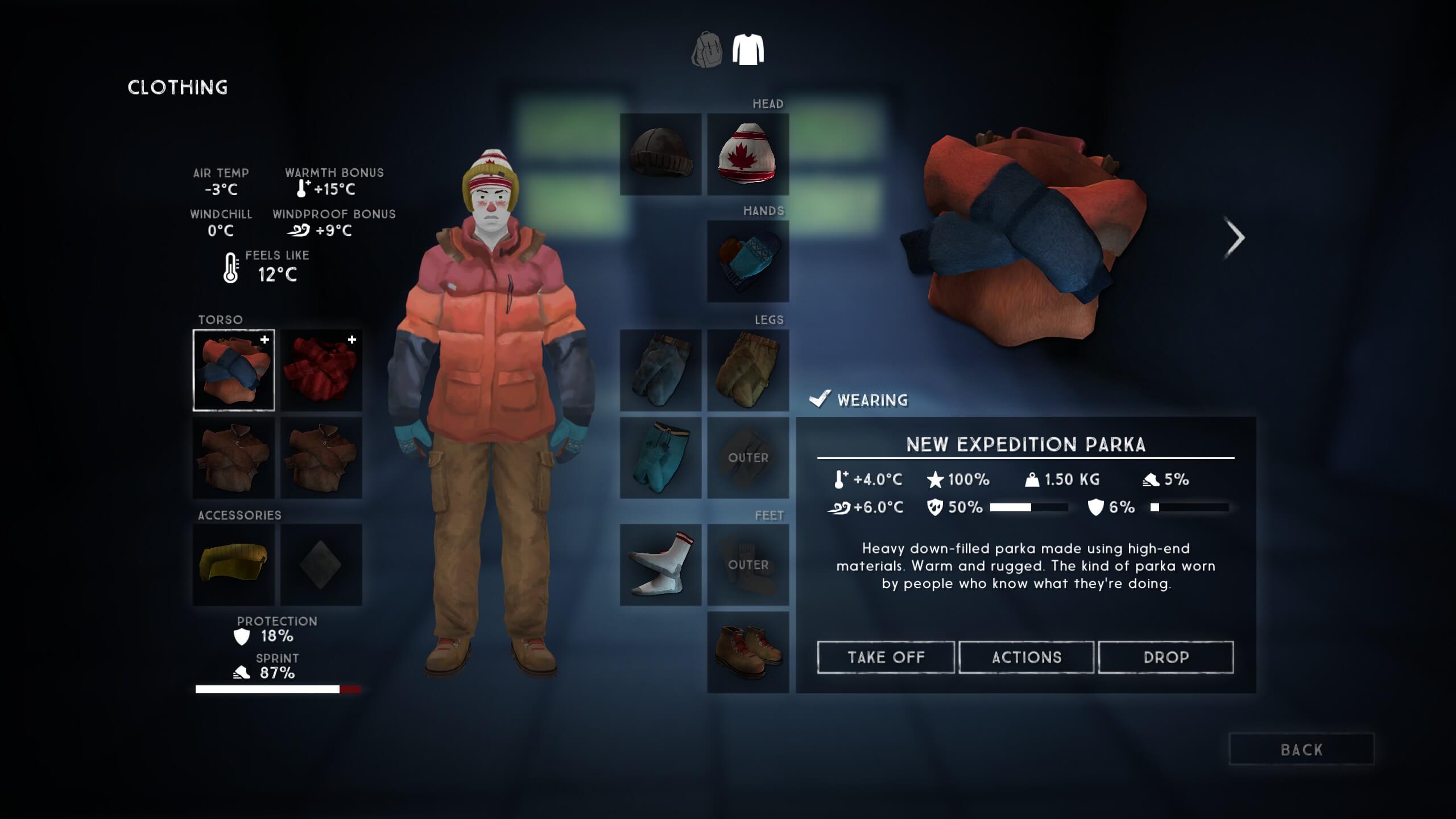 Most importantly, a couple of these provide 10 percent Protection along with a mobility level of -2 percent. There are various other valuable options as well one might take into account. Moreover, The Wool Shirt is equally good as an idea as well. Most importantly, both the Thick and Thin wool sweaters are similarly significant.
4. Torso Clothing (External Layers)
Things have to vary with lowering levels of difficulty. A player doesn't merely feel it essential to seek for the equal extent of warmth as it would aim for on Interloper. Naturally, they can opt for providing a certain level of warmth that supports protecting the weight. On most occasions, the experts find it a good idea to go with the Mackinaw jacket and the Windbreaker's flawless combination.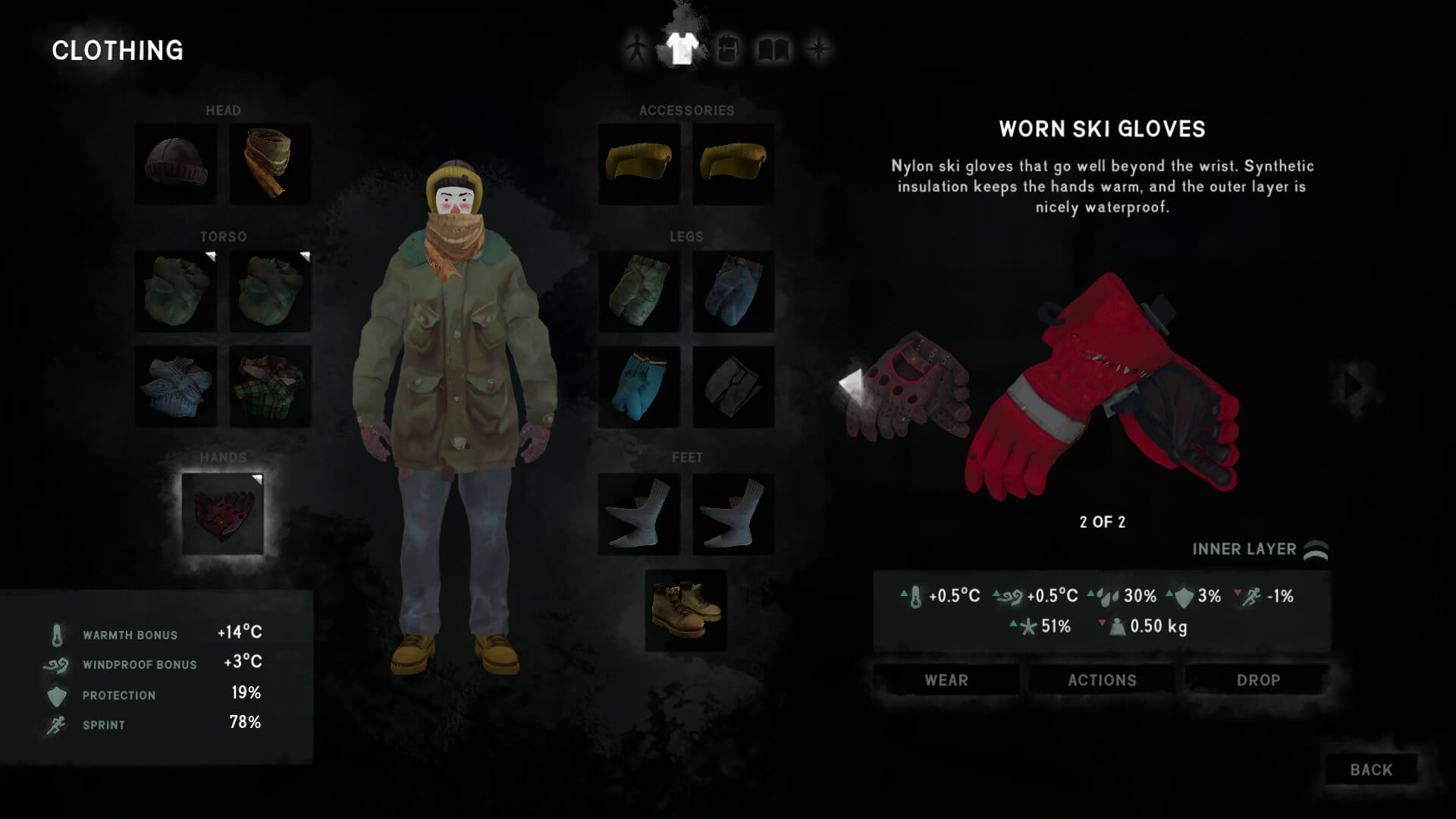 The outcome thus obtained is significant in terms of Windproof rating and waterproof rating. It involves six percent of protection and -3 percent of mobility. Above all, it weighs just a couple of Kgs. It might be felt essential for those who find themselves not too warm to look for a setup change. Hence, one might alter the items that can result in more incredible warmth but lower mobility.
5. Legs (Inner Layers)
This is certainly as simple as it appears. Those having a couple of pairs for the Wool Long Johns may go for putting on both, and most importantly, should not look back.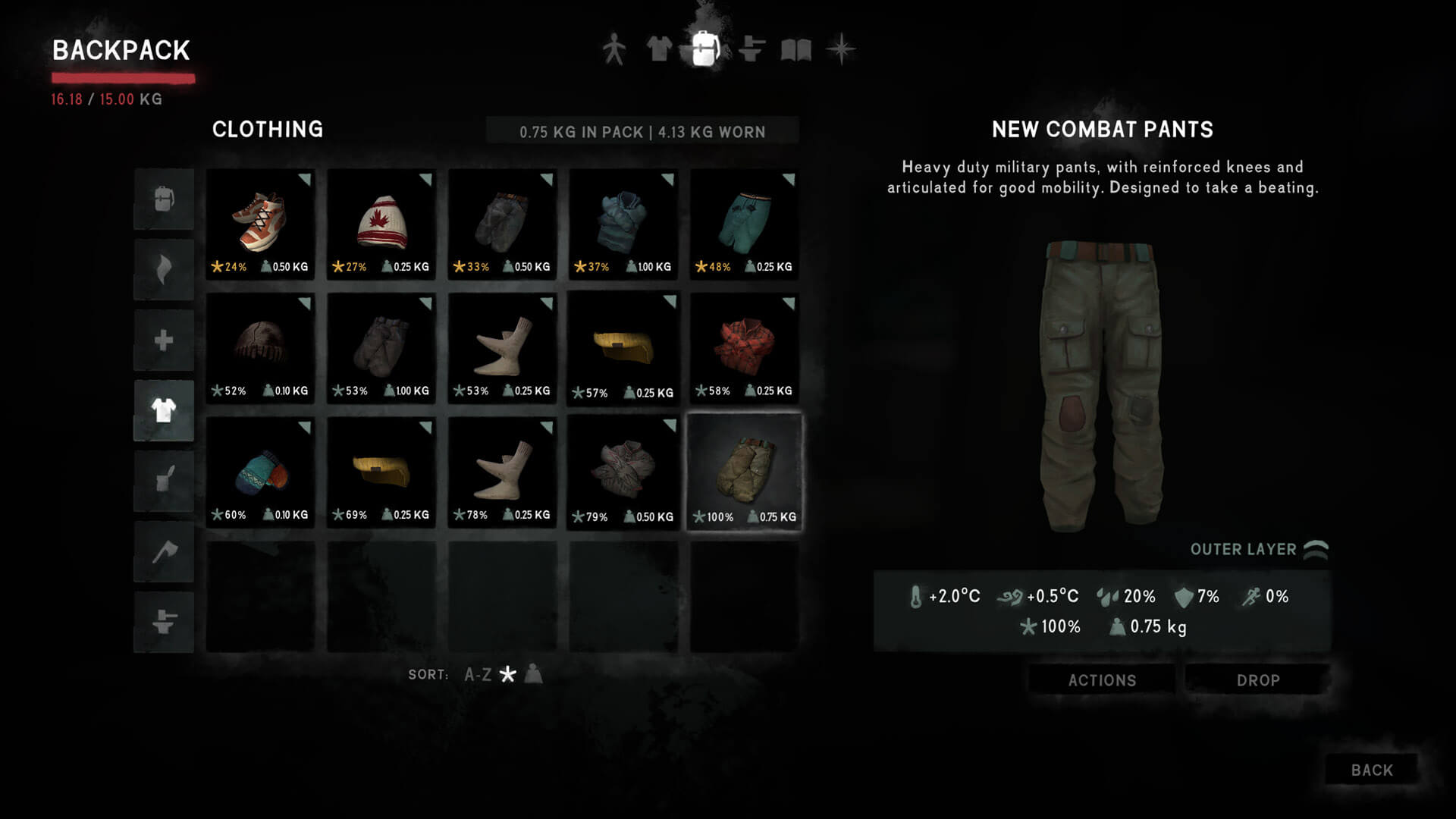 One is leaving 1.00 kg for a couple of pairs. But the most critical aspect is that one gains 4 degrees Celsius of warmth from the same. There should be no doubt and no reason why one should not go for the Wool Long Johns, especially there is the scope of going for it.
6. Legs (External Layers)
It is advised not to put on the jeans. Moreover, it matters when someone feels lost within the ruthless Canadian adventure through the end of winter. It is more important to track down one pair of Combat pants or a couple of the same. They are not in a properly matched state in this segment.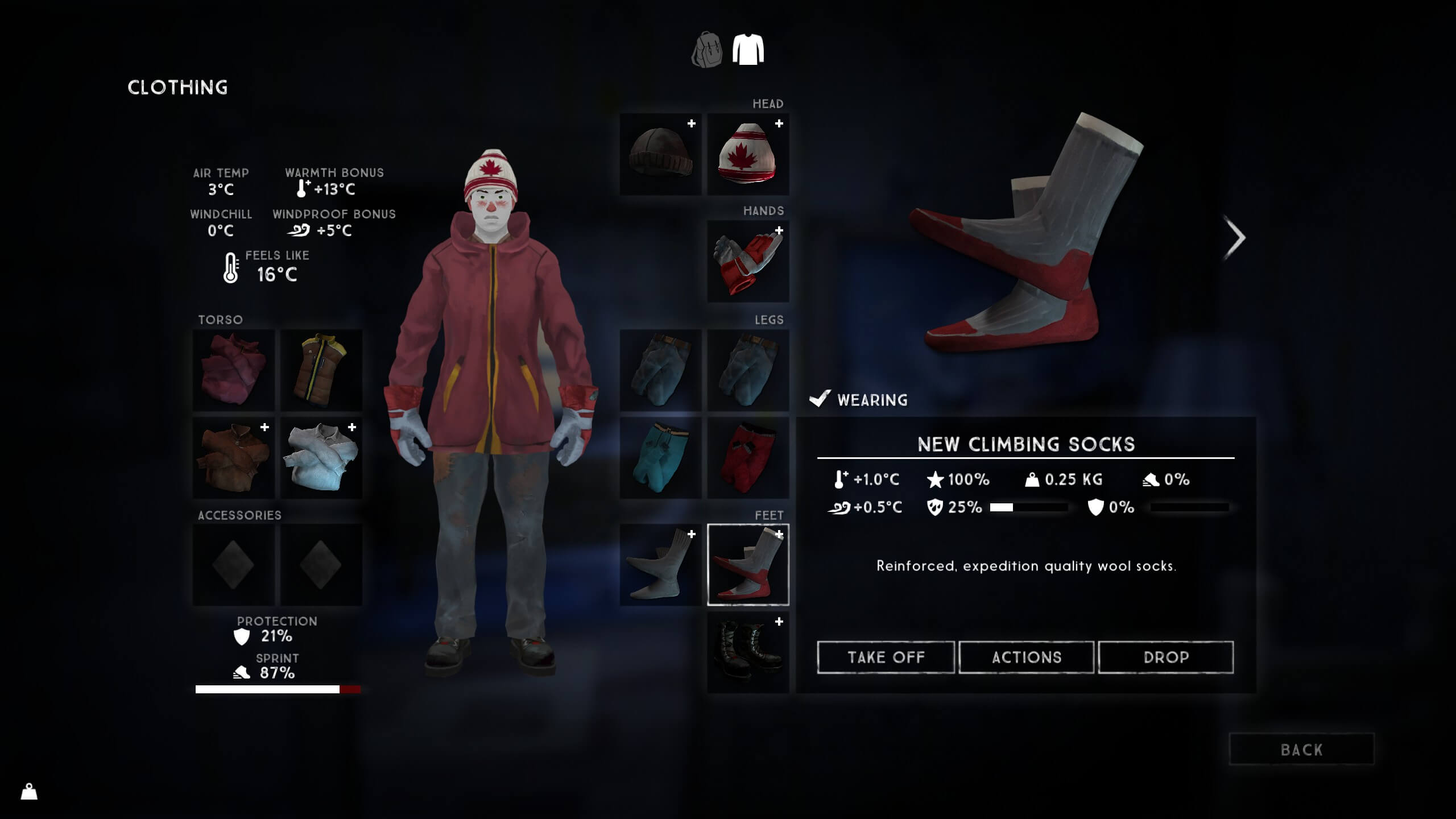 But, they are quite tough to appear. A couple of Cargo Pants at the bottom with a few Snow Pants at the top is certainly not a bad idea.
All that one needs to keep in mind is that the Snow Pants will affect mobility to a certain extent. Most importantly, it helps in maintaining the warmth level and so of the dryness.
7. Feet (Inner Layers): Socks
When it comes to ordering the socks, Climbing Socks certainly comes on the top. Wool Socks comes next, and Sports Socks comes in the end. You may have a couple of pairs of Climbing Socks when it is possible.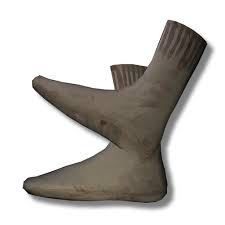 Otherwise, one may put on a couple of pairs of the perfect combination that is there. There is nothing complicated in terms of making decisions here. Socks are certainly not the best place for giving a try and saving down the weight.
8. Feet (External Layers): Boots
Needless is to say that footwear is challenging. However, there are certain critical options one can take out in a quick time. Also, there are specific incredible options that all these players need to look for. Indeed, one should look for the rarest of the possibilities. For those unable to find one pair of the same, preparing the Deerskin Boots will be a good idea.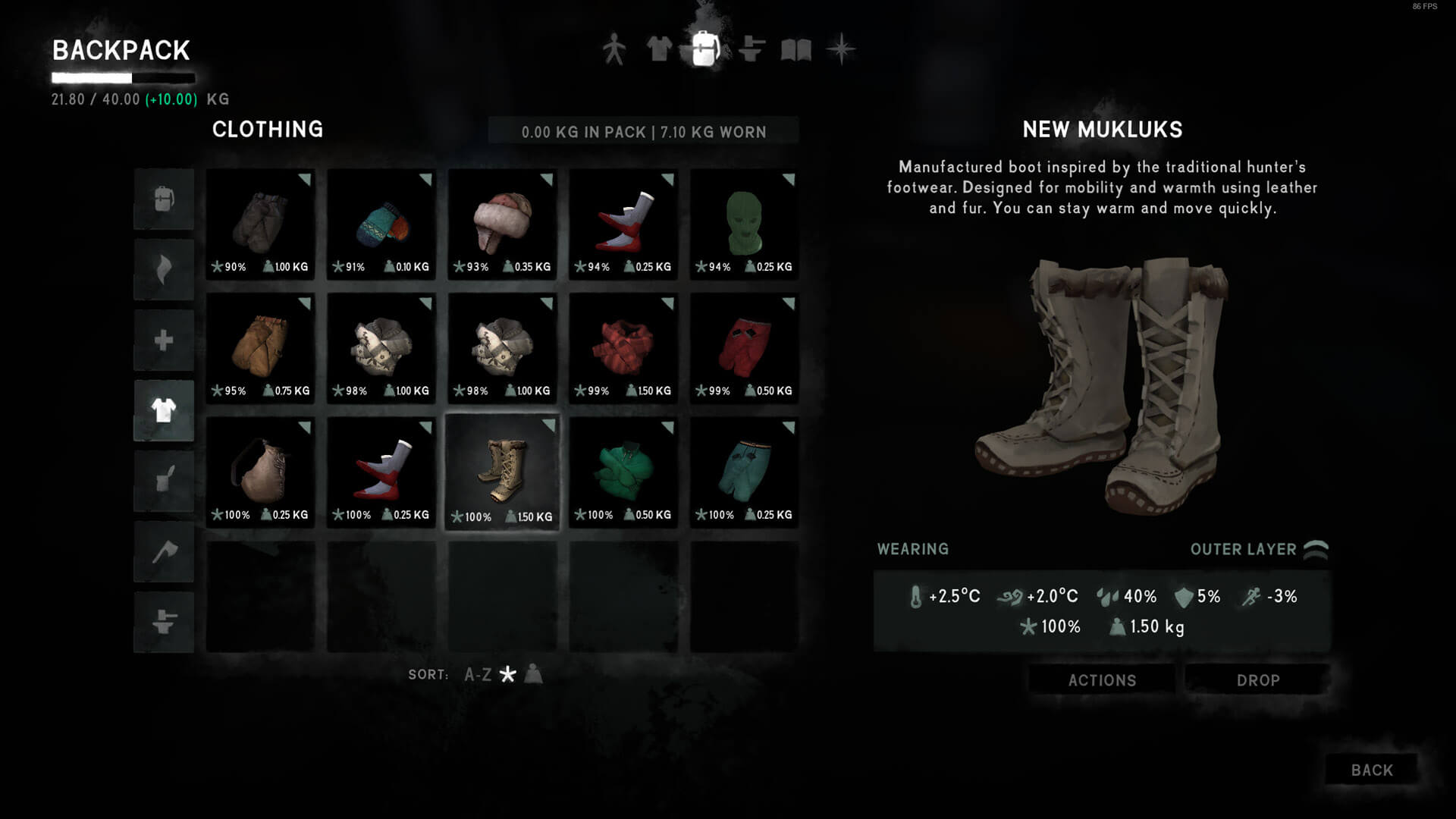 But, one also needs to keep in mind that it affects mobility. At the same time, these are relatively heavier as well. But, it is true at the same time that it helps in maintaining the warmth. Also, it helps in keeping the feet dry.
Most importantly, it doesn't affect the Mobility level in any way. The level of protection it provides is quite adequate as well. After all, no one likes to give an excellent rating to something that affects mobility. Indeed, leather and running shoes are not o effective options.
9. Various Accessories
Finding the long dark accessories is crucial. Those who know, apparently the Moose-Hide Satchel, are not going to affect in any way with the level of warmth. Instead, it is going to let you hold an extra weight of 5.0 Kg. Those who don't manage to find one or those who don't manage to craft one should put on a couple of Wool Ear Wrap pairs.
Instead, one should feel accomplished that there is no one absolutely watching you, and the reason is that it is the dirtiest of clothing as part of the game.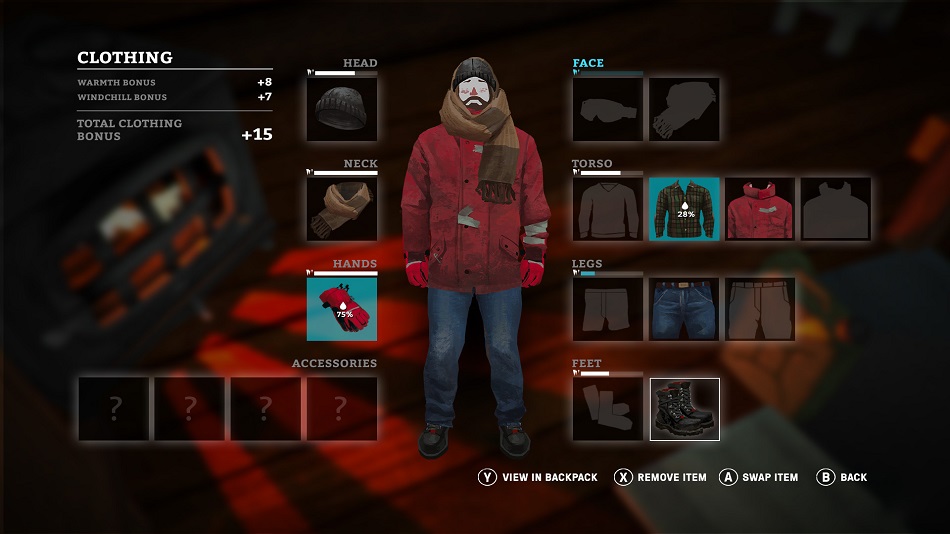 Also, it clips through the entire thing. After all, someone has to consider fashion on a much serious note. It is suggested that one should play a little. This is tricky in terms of figuring out what is working well.
It often doesn't become possible to interfere with what someone puts on. Instead, one puts on what is available at the moment.
It's certainly great to understand that the Mukluks are incredible. But, it is quite right that these are not too common. All that one needs is to find one best spot as per the level of difficulty.
One might have to go for trading Mobility for a greater level of warmth. Also, one might find that one can lose a little warmth regarding the lighter ones. It will be useful to consider a range of data before making the right decision.
Specifically, it is crucial to compare couples of clothing pieces alongside in a perfect state. This brings clarity on whether to repair and check about its effectiveness. This should be enough to obtain clarity on the best clothing as far as the Long Dark is concerned. One may go for checking out guides from different other sources as well.
Significantly, one should reach those platforms where more informed players are there to help out. This is crucial in terms of making challenging decisions and enriching survival modes.
Calculating "Feels Like"
1. Air Temp:
Primarily, it indicates the temperature of the air, irrespective of the location one presently is at. It shows the temperature, whether it is within or outside.
2. Warmth Bonus:
This is a bonus one can obtain through clothing. Additionally, there remains the badge of Cold Fusion that can be earned for remaining at the outside. However, this bonus is provided for staying outside for 100 days.
This Warmth bonus certainly holds a lot of value—the bonus offered by clothing safeguards against the concerned player's character's cold temperature.
Every clothing product in a thoroughly equipped state provides a certain level of degrees regarding warmth bonus. Instead, the bonus is a steady effect that enhances the "Feels Like" temperature. But, with damaging clothing, the deterioration in the extent of warmth it offers happens.
3. Wind Chill:
This indicates the chilling factor of the wind. It is essential to be 0 degrees when someone is inside. When someone is outside, it is quite apparent to have its effect on the temperature one feels. Moreover, it happens when the state is windy.
4. Windproof Bonus:
Undoubtedly, protection is assured from the wind through clothing. This interpretation is a straightforward confront of the readings of the wind chill. The bonus that one can obtain through clothing does safeguard the extraneous heat loss that a player experiences.
This Windproof bonus is felt by the players, mostly due to the chill wind. On some occasions, the warmth rating of a gear remains more significant than the environment's temperature. There are occasions when the windproof rating remains lower in comparison to wind chill. These are the occasions when one loses the heat.
All in all, it's the most external layer of the clothing that holds a significant role in contributing to the windproof bonus. Indeed, it significantly puts constraint over the extent to which one can stack it. However, there remain 6 clothing slots for the players. These are the slots that contribute to the windproof rating.
The first slot is called Head. Outer Torso is also the first slot. Outer Legs is the second slot. There remain the hands, external feet or boots, and the second slot's external accessory.
It indicates the inner hats, also the second jackets. Also, there remain sweaters and shirts, other than the second pants, the pants at the inner layer, along with socks; those don't contribute towards the windproof rating.
It doesn't contribute to being in a thoroughly geared state. This is applicable despite these holding a Windproof score. However, the windproof score is applicable explicitly in those instances when there remains no external layer someone puts on over it.
The maximum possible Windproof rating is 16 degrees- it is 1.5 degrees C for Rabbitskin Hat, it is 6 degrees C for Expedition Parka, It is 2 degrees C for Gauntlets/Rabbitskin Mitts, 2 degrees C for Snow pants, 4 degrees C for Ski Boots, and 0.5 degrees C for Wool Ear Wrap.
It is here to note that the windproof effect boosts the "Feels Like" temperature only. It boosts the temperature by a certain degree of windchill that affects the concerned player.
1. Feels Like:
It is an indication of the way a specific character "Feels Like". On those occasions, when the temperature remains above 0 degrees Celsius, it is quite apparent to feel warm. When the temperature stays below, you will start losing the warmth until the player feels freeze.
2. Protection:
It is the level of safety that the clothing provides against predators. Undoubtedly, this level of protection is essential to get over struggles. Moreover, higher ratings are going to help in surviving against the hustle.
The protection bonus offered by clothing provides a lower state in damages of the physical level that the player might experience.
It includes various states, ranging from falls, burns, and attacks from the wildlife. It's explicitly the external layer of clothing that holds a contribution to the safety bonus of the concerned player. Most importantly, the clothing in layered form is not useful in mitigating the impact of the disaster.
It considers the effect of damage going beyond that of the most external layer. As far as inner clothing is concerned, it includes underwear, second coats, socks, second pants, second accessories, or shirts. Primarily, the point is that there remains no contribution towards the safety bonus.
It is here to note that the maximum possible value of protection that one can obtain at present is 67 percent. It includes a proper pairing of Ski Boots of 12 percent, Deerskin Pants involving 10 percent, Gauntlets affecting 6 percent, Moose-hide cloak involving 25 percent, Rabbit skin hat involving 4 percent, and Crampons involving 10 percent.
3. Sprint:
It is important to understand that the sprint will be complete 100 percent when naked. Through the course of adding the layers of clothing, it starts dropping. Those who are giving it worth to run, indeed this reading is crucial to the ability to do the same.
Now you can easily enjoy these clothes in the long dark game. If you have some problem with the long dark game maps, you can read the long dark map post and solve your problem.
FAQs
What is The Long Dark?
The Long Dark is a first-person survival game set in the Canadian wilderness in the aftermath of a geomagnetic disaster.
What is the importance of clothing in The Long Dark Game?
The clothing has great importance. It is an item you can wear to maintain your body temperature, and it also protects yourself from the environment; rain, snow, and wind.
Where can I find the Game Clothing?
There are four kinds of game clothing in Long Dark: parka, sweater, gloves, and hat. There are two versions for each kind of clothing in the game (light vs. heavy). You will get one free light-weighted set when you start a new game. As for the heavy-weighted clothing, you need to purchase it or find it as loot.
How long can I play for?
Permanent death will be imposed after 3 hours of gameplay or if you die during "permadeath."
How do I get the clothes?
You need to purchase from the "Clothing" category of the shop. But if you want to get a free light-weighted set, you need to start a new game and choose The Stalker as your playable character (you will find him in random places). After that, you can locate his body and take his clothes freely.
Final Words
This is the comprehensive Clothing Guide For The Long Dark, we hope you get what you are looking for.  Do share this article on social media if you found it helpful for you in any manner. In this brief article, we have explored a number of ways to stay comfortable in The Long Dark Game. We've also looked at some options for sources of heat. Ultimately, you may find your own way to stay warm in the cold environment of the Canadian wilderness. We leave it up to you to use your imagination on how to stay warm and comfortable out in the wild.
If you have any questions, feel free to comment on this post. Thank you, and good luck surviving the Canadian wilderness. Stay connected with us for future updates.