It's quite a difficult task to play The Long Dark without maps, and so every user searches for The Long Dark map. So I have researched and created a list of all The Long Dark regions maps which provides detailed information for that region. You will find the updated maps to all the regions which exist in the game, so finally, your search is over, below you will get all the maps region-wise.
During this COVID-19 pandemic, when we are at our homes and following social distancing norms. Also, center, avoid unnecessary outgoing. Hence, when we can't hang out or we shouldn't, indeed.
The virtual gaming world is the only place where we can roam around bravely. Furthermore, gaming is the only pastime at this time, as most of us have found.
The first-person survival mode game – Long Dark players have increased throughout the years.
Well, if you are a Long Dark Enthusiast or even if a beginner, then you might have searched for the long dark maps of all regions. However, Hinterland Studio, developers of Long Dark, doesn't provide any in-game "Long Dark map".
Yet, fortunately, there is an in-game mapping feature through which players, themselves, can create their maps while playing Long Dark. Many players may find this feature useful.
But, when it comes to the preference, they, too, may prefer the ready-to-use Long dark maps.
No matter how advanced we will become. Maps are something we all need when it comes to exploring an unknown place. After all, maps help us in locating and navigating the location by becoming a guide for us.
Now, due to this preference, or I may call it a necessity, many community members and even players of Long dark worked hard over the years and created the long dark maps.
Hence, here we are with all those region maps as well as transition zones to help you every time in Long Dark, whenever you need it.
Regardless to say, you may find some long dark maps more detailed as compared to others. But, all of them are useful and there isn't any doubt about this.
Let's go through them one by one.
The sequence of all the region and transition zone maps of The Long Dark will be:
The Long Dark Mystery Lake Map
The Long Dark Forlorn Muskeg Map
The Long Dark Mountain Town Map
The Long Dark Hushed River Valley Map
The Long Dark Bleak Inlet Map
The Long Dark Broken Railroad Map
The Long Dark Winding River Map
The Long Dark Ravine Map
The Long Dark Pleasant Valley Map
The Long Dark Timberwolf Mountain Map
The Long Dark Coastal Highway Map
The Long Dark Crumbling Highway Map
The Long Dark Desolation Point Map
The Long Dark Mystery Lake Map
To begin with, Mystery lake is one of the easiest regions, as the long dark players consider it. The reason is a combination of indoor as well as outdoor wildlife locations.
The long dark Mystery lake map connects, indeed, with Forlorn Muskeg, Milton, Coastal Highway, and pleasant valley; staying in somewhat center of these locations, even though it is actually in the west.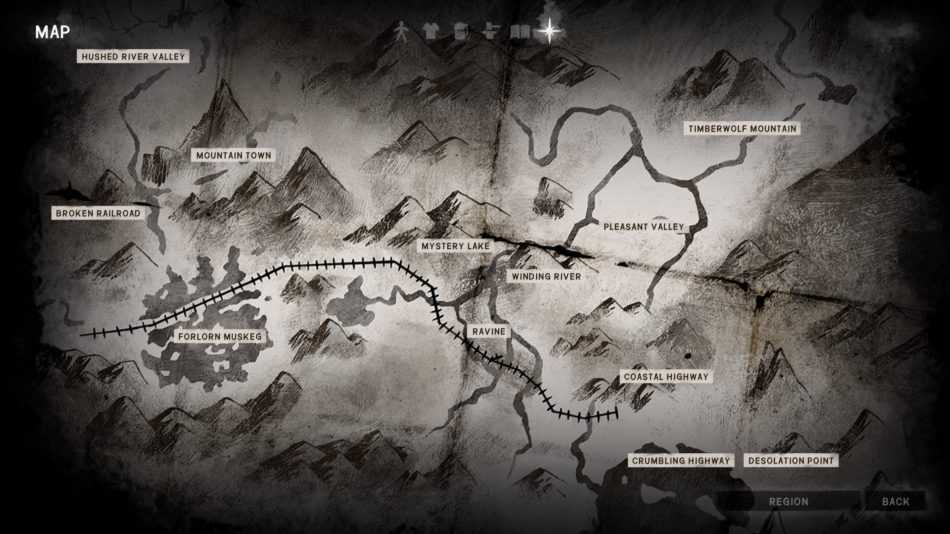 One may find a few wolves in between but the spacing of the shelters is more than appreciable. In addition to that, getting caught in bad weather times isn't a concern in the Mystery lake region.
Yet, with the Mystery lake map, you can boost your performance and even take it to another level. Mystery lake map is a good region to getting started with. And Mystery lake map can provide all the needed guidance to you.
The Long Dark Forlorn Muskeg Map
Forlorn Muskeg is one of the newly introduced regions in the revolutionary game and even in long dark maps. The region connects to Mystery lake. Though, unlike the Mystery Lake map, there aren't any indoor locations. Hence, it somehow becomes clear that there would be no place to sleep indoor.
Simultaneously, there would be more wolves and two beers, too, in Comparison to the Mystery lake map. However, the good thing is that you can see the beers coming to your way even when they are a mile away.
In the Forlorn Muskeg map, you will find that there are buildings, but, they are mostly exposed to the elements.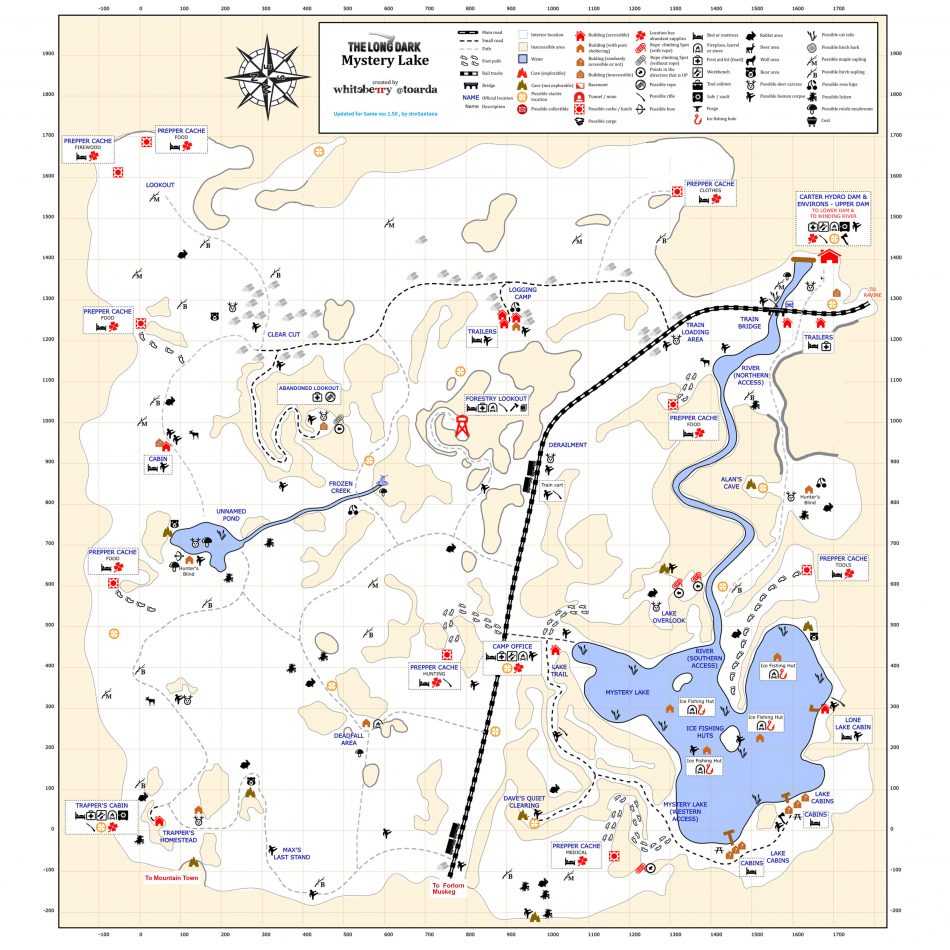 There is a lot of weak ice which makes travel difficult. It does feature one of the in-game forges, the second forge, that enables the players to save their trip to Desolation Point. As a consequence, it's a region most players will visit eventually.
Therefore, If you are willing to put in your time and efforts in this region. Then, there is a good opportunity for you in Forlorn Muskeg, which includes a large number of Cat Tails to eat.
The long dark Forlorn Muskeg map is connected to Broken Railroad and Milton Basin which is also known as Mountain Town. In advisory Lake and Bleak Inlet.
Let us get to the connection of the Forlorn Muskeg Map. The Mountain Town map…
The Long Dark Mountain Town Map
The Long Dark Mountain Town Map is here for the Mountain Town region. Not to mention, it is known as Milton in the story mode. The region features lots of houses, therefore, it can be an amazing place to find clothing items.
However, Wolves can become a problem in Mountain town due to the short sightlines caused by the many buildings. To put it in another way, there isn't much space between buildings as compared to the mystery lake. And that is what makes Mountain Town more adventurous.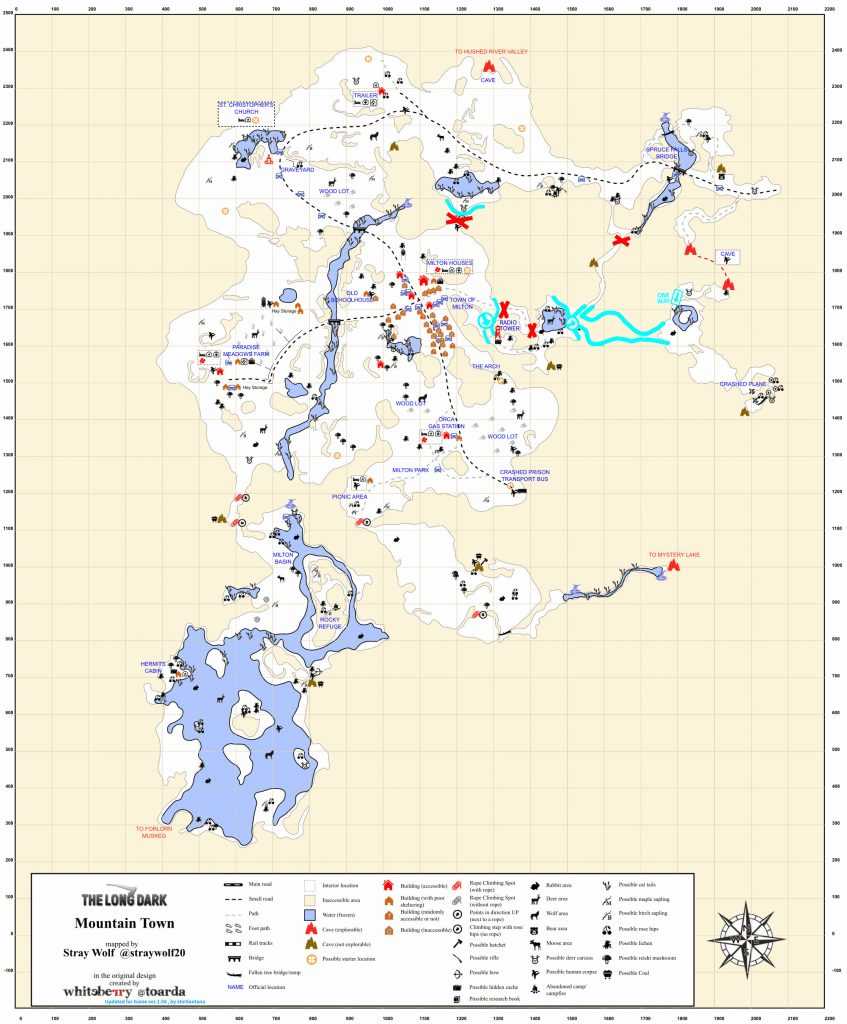 You may find that Mountain town has a connection with Mystery Lake and Milton Basin (to Forlorn Muskeg). In addition to, Hushed River Valley.
So, as we have come to talk over Hushed River Valley. We will now discuss the Hushed River Valley Map.
The Long Dark Hushed River Valley Map
Hushed River Valley is kind of a necessary step on the way, perhaps the most punishing zone in The Long Dark. Hushed River Valley is a pretty cool place to visit, but not somewhere many players would want to live.
As a Long dark player, you may find that the Hushed River Valley is one of the deadliest regions in The Long Dark. That has no indoor locations apart from caves.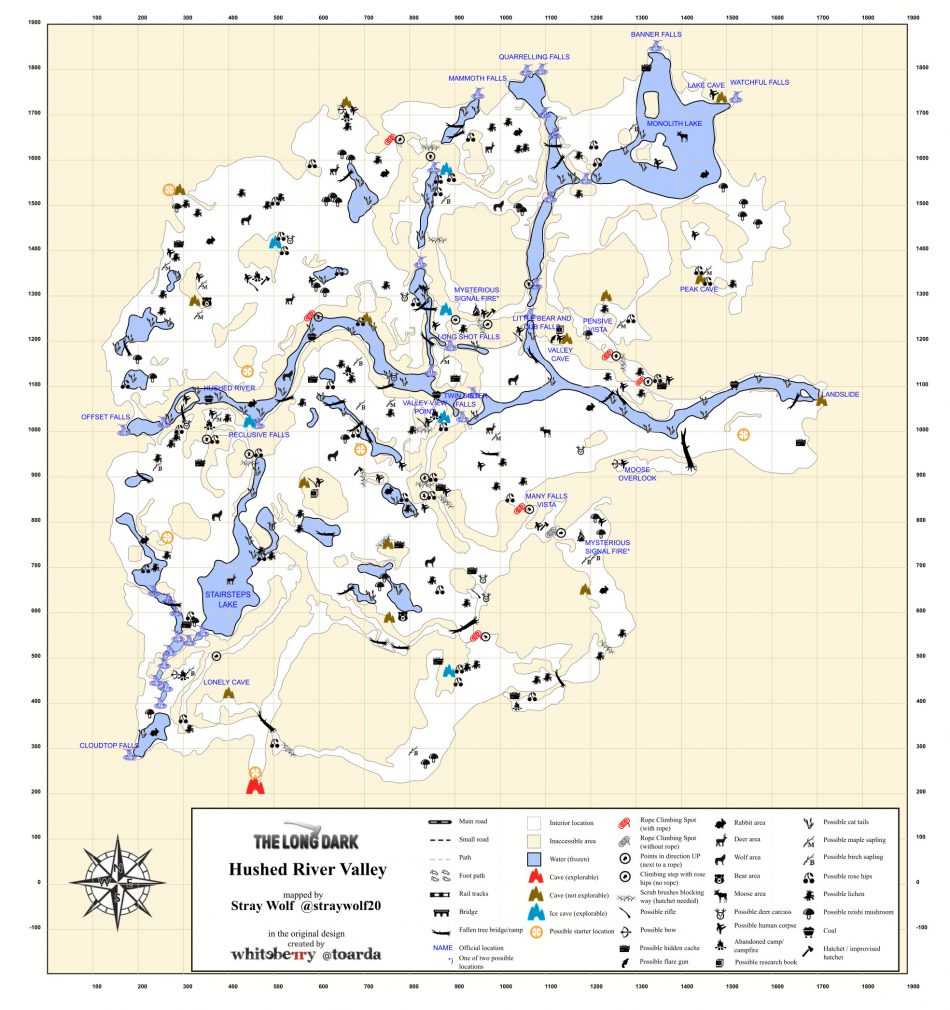 As a result, players can expect to spend almost every moment outside. Along with being ready to do a lot of climbing. Obviously, to make their way around the zone.
The region connects itself to Mountain town, indeed.
The Long Dark Bleak Inlet Map
In the Long dark, you will need the long dark Bleak Inlet map. The reason is that Bleak Inlet is also one of the latest regions in The Long Dark. In addition to that, there are several reasons apart from lack of indoor locations just like Forlorn Muskeg, for which you might find it thrilling. Bleak Inlet perhaps is most dangerous.
Further, it is the first region to introduce Timberwolves in Survival mode, without any doubt. Indeed, Timberwolves travel in packs and present a significant challenge to even veteran players.
Nonetheless, Bleak Inlet also features two new workstations that are not currently found in any other zone: first is the Milling Machine and the second is Ammunition Workbench. Regardless to say, you don't need to worry about any of these things.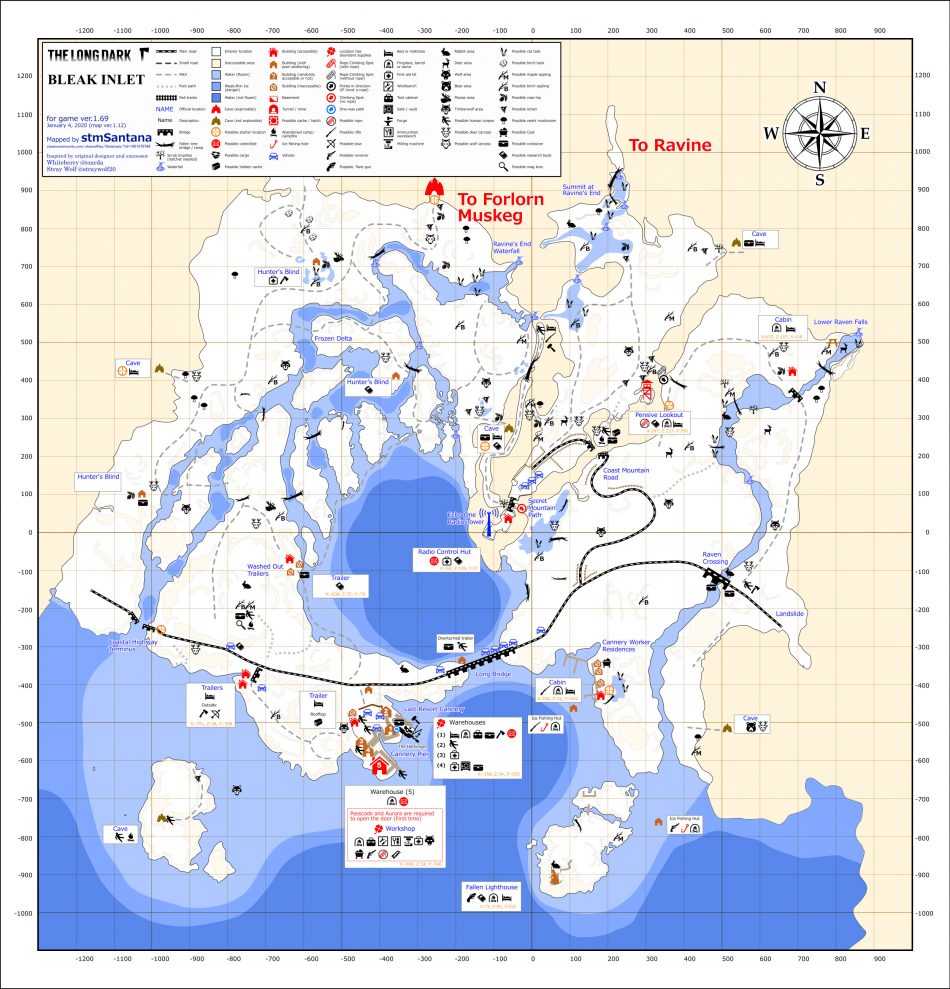 The reason is the long dark Bleak Inlet map that includes every single part of the region. Hence, due to the Bleak Inlet map is here with you. Are you ready to enter this latest region?
The players can use The Milling Machine to repair tools and even weapons during the Aurora, and the other one, which is named Ammunition Workbench can help you by crafting ammunition for the Rifle and Revolver.
If you have got what is needed to survive the Timberwolves. Then, there is Bleak Inlet awaiting you. For incomparable hunting, of course.
Not to mention, Forlorn Muskeg is connected to Ravine (to Coastal Highway or Mystery Lake).
The Long Dark Broken Railroad Map
While playing in the long dark, you may accidentally or may intentionally visit the broken Railroad. The broken railroad is a small zone, as the long dark Broken railroad map suggests, that exists almost entirely near a set of railroad tracks that run through it.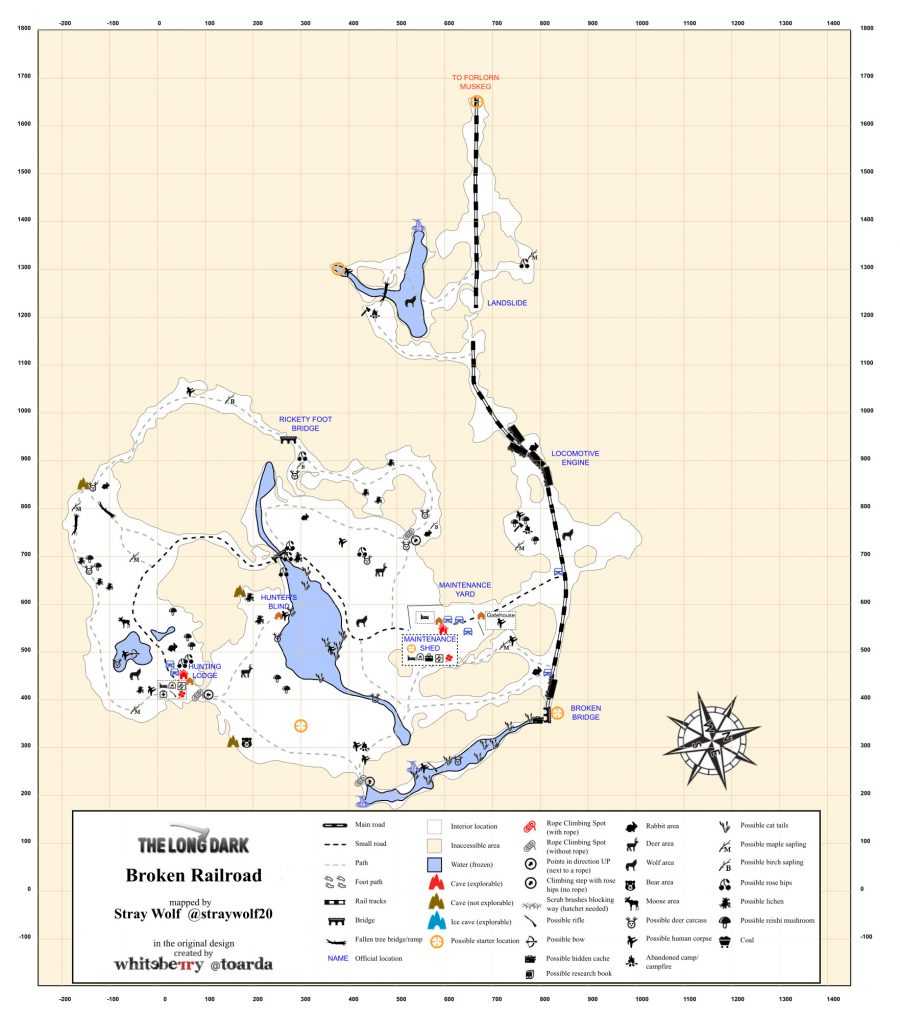 Regardless to say, If there are wolves near the tracks then, it can become tough to navigate without confrontation. Yet, it will only need a day or two of yours, to fully explore the zone.
Nonetheless, the Broken railroad is a Good place to visit if you need a Forge and don't have the gear or skill to sleep in Forlorn Muskeg while you use that one. This itself clearly shows that the Broken railroad has a connection with Forlorn Muskeg.
The Long Dark Winding River Map
Winding River, of course, is a transition zone that connects Mystery Lake (via Carter Hydro Dam) to Pleasant Valley. Moreover, It has a lake where you will commonly find a wolf. Because this lake is the home of that wolf.
Yet, there are chances for some good loot if you explore it further, on the way through. This part of the transition zone is worthy enough to visit for long dark players.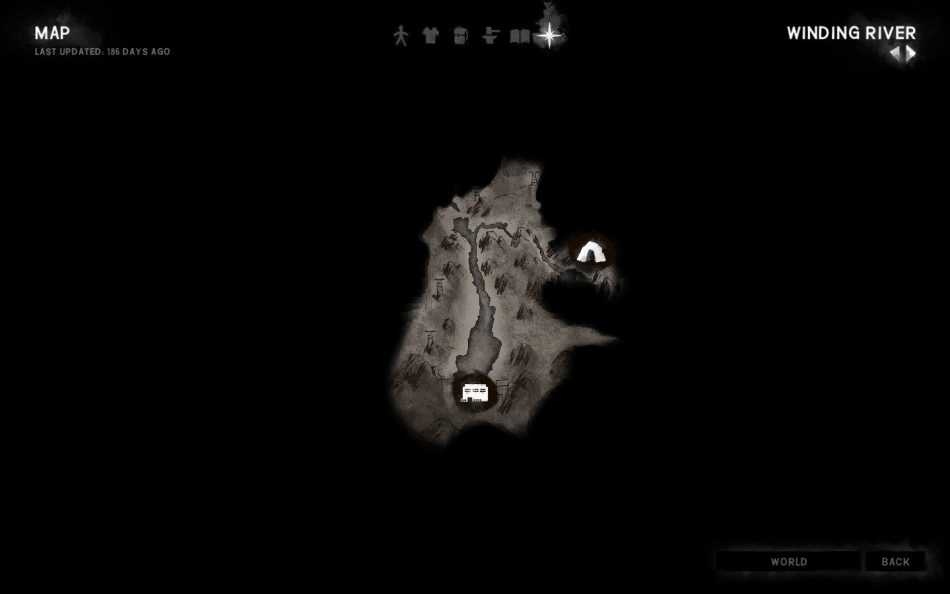 To begin with, you can kill the wolf. Thereafter, it will no more be a place of terror. Therefore, the winding river is not a bad place to spend your night and camp if you are dressed appropriately.
Further, the Winding river is connected to Mystery Lake and Pleasant Valley.
The Long Dark Ravine Map
The Ravine is one of the favorite transition zones of long dark players. If you climb into the ravine. You may find a Distress Pistol there. Furthermore, the zone is good for a few rabbits and likely a deer.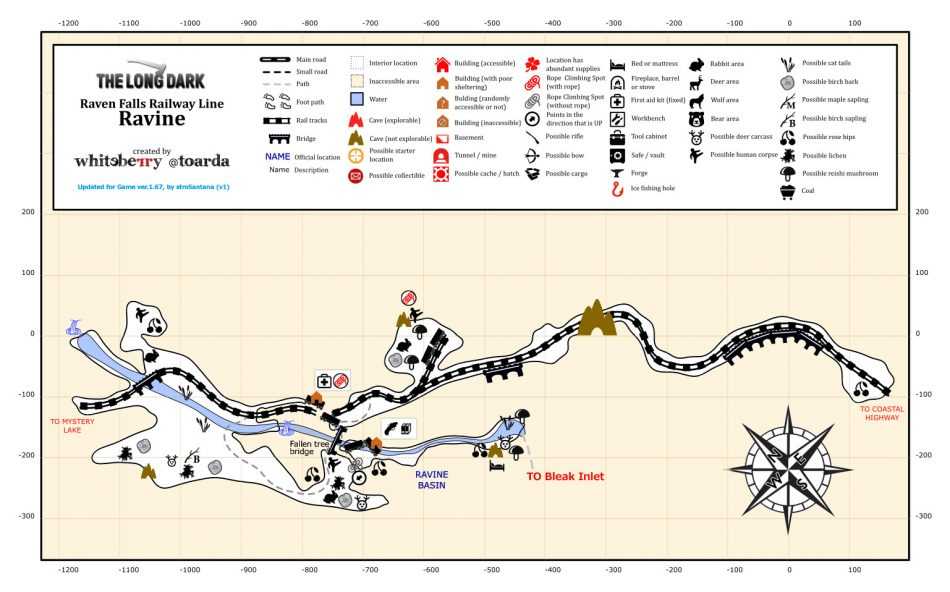 Just bring warm clothes and enjoy a peaceful camp out before moving further to Coastal Highway, Mystery Lake, or Bleak Inlet. Also, be sure as well that you can climb back out of the actual Ravine before you climb down.
Thus, it is clear that Mystery Lake, Coastal Highway, Bleak Inlet are the connections of the Ravine.
The Long Dark Pleasant Valley Map
You may find the Long Dark Pleasant Valley region map huge, as is the zone itself. And maps are the indicators or maybe just scaled-down, smaller versions of the original region.
There is a lot of open space, nonetheless, and the weather is awful. Hence, be careful enough so that you don't get caught outside by yourself.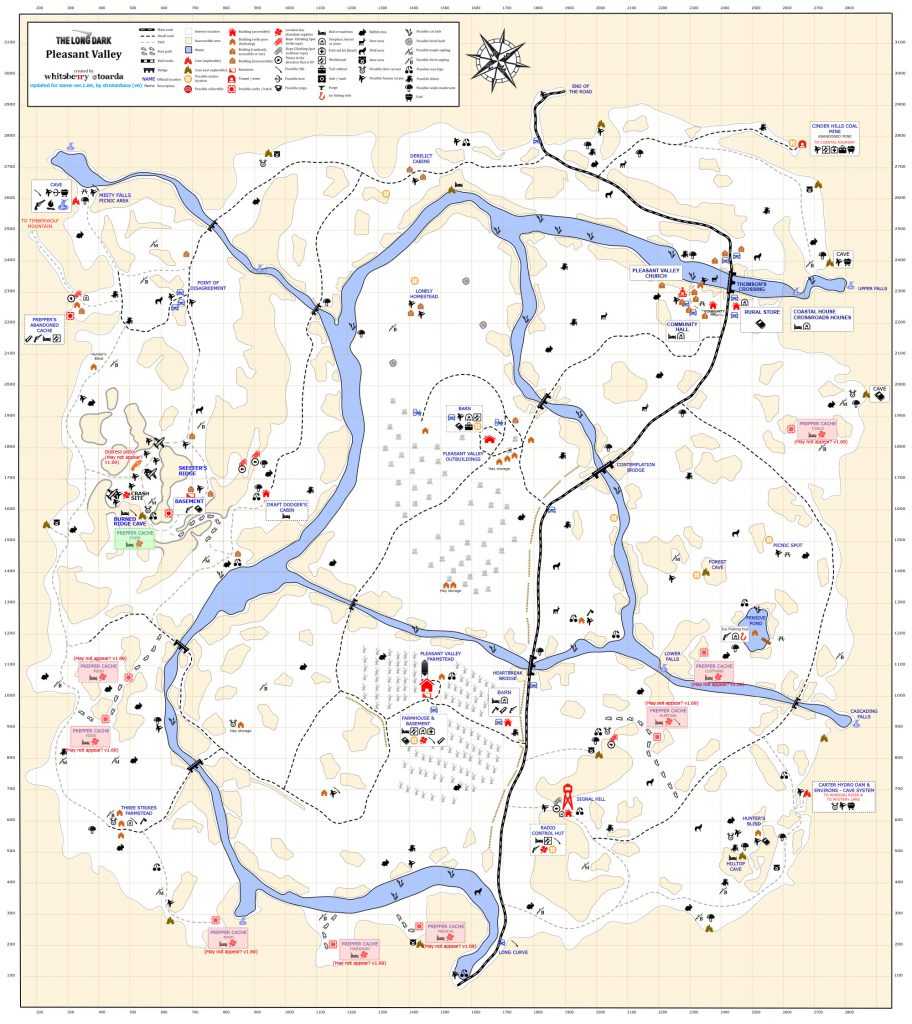 Furthermore, there are lots of bears with large zones of control. But the openness of the long dark map assures that players can often see threats coming from a long way off.
This region got a bit of an overhaul recently, and players can now find some additional buildings and areas worth exploring.
Winding River (to Mystery Lake) and Timberwolf Mountain. Along with, Cinder Hills Coal Mine (to Coastal Highway) are the connections of Pleasant valley.
The Long Dark Timberwolf Mountain Map
Timberwolf Mountain region connects itself to the Pleasant Valley Region. The long dark Timberwolf is among the most rewarding and challenging zones in The Long Dark.
Scale down the Timberwolf Mountain, You will feel that you have truly accomplished something noteworthy.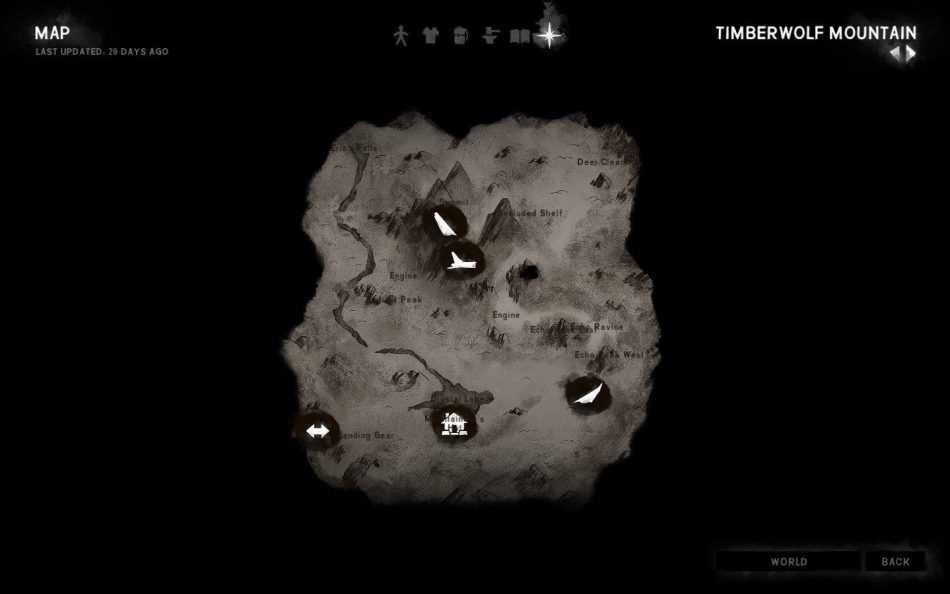 If you are fully geared and a skilled survivor, in other words, a long dark enthusiast, then, try living at the Mountaineer's Hut at the base of the mountain by the lake.
The Long Dark Coastal Highway Map
Due to its best fishing opportunities in the game, and popular base locations out on the lake and at its shore. Coastal Highway is the favorite region of long dark players.
You can live here, indeed, if you have the right gear, and the lake provides long lines of sight to see predators coming from a literal mile away.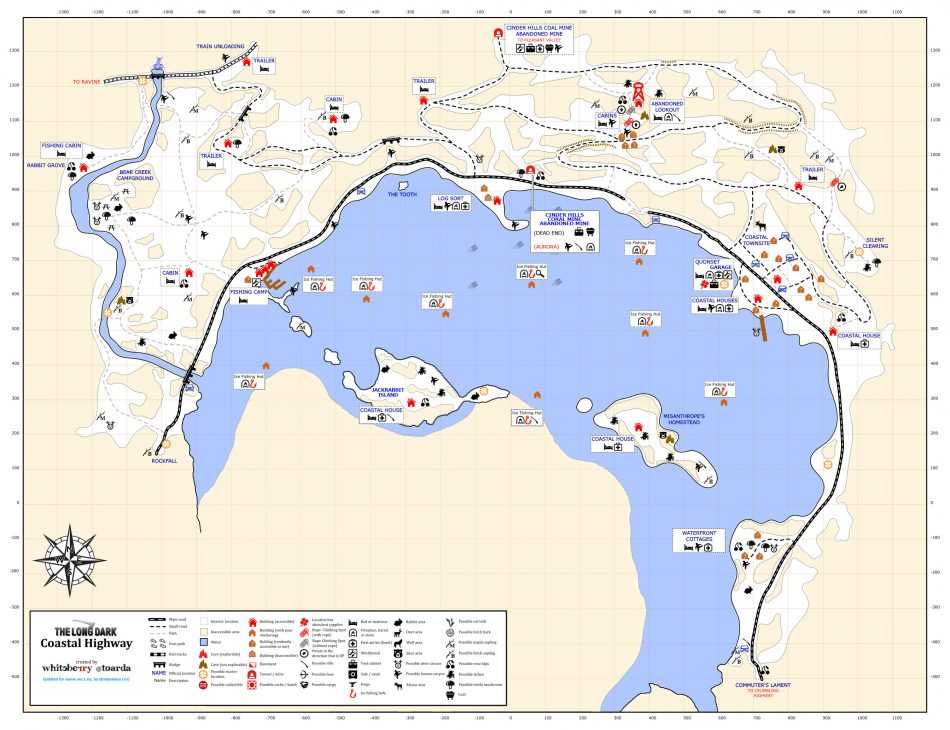 It is an indoor stove on Jackrabbit Island away from being the perfect zone.
Coastal Highway is connected to Crumbling Highway (to Desolation Point) along with Pleasant Valley and Ravine (to Mystery Lake). You can observe it by looking at the long dark Coastal Highway map, as well.
The Long Dark Crumbling Highway Map
The crumbling highway is connected to the Coastal Highway and Desolation Point. You can observe the same while playing or even by looking at the long dark crumbling highway map.
The Crumbling Highway is a very small and very dangerous transition zone as you might observe while playing or even in The Long Dark Crumbling Highway Map.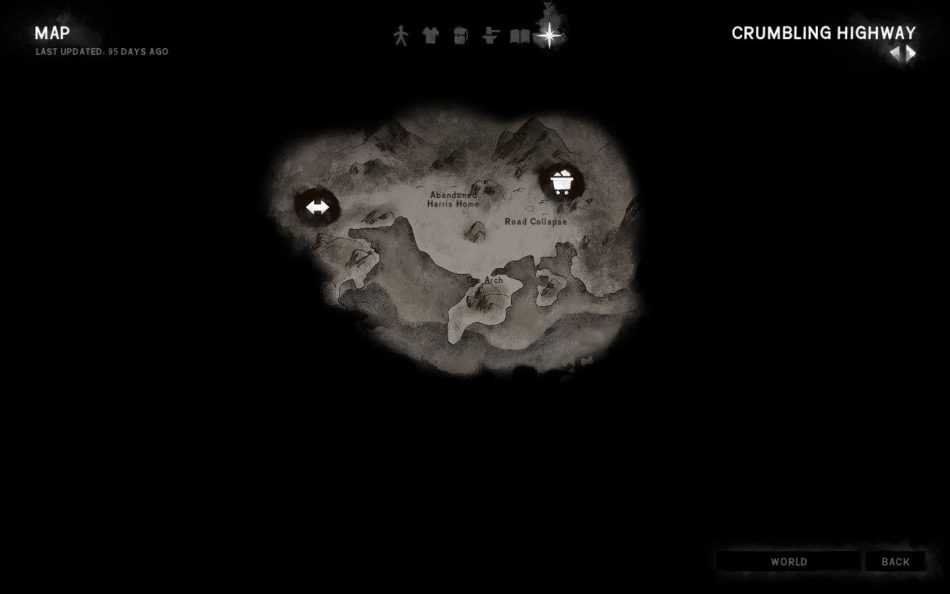 This transition zone is narrow and features at least one wolf on usual which is hard to bypass, and often difficult to spot many times.
The only tip that we would like to give here is to try to get as much height as you can when moving through the zone to spot the wolves before they spot you.
The Long Dark Desolation Point Map
The Long Dark Desolation Point region map gives away because it's a rather small zone in terms of content. Yet, it does have a forge at the Riken and that is the main attraction of this region.
It is relatively easy to avoid predators here and it tends to have chances of amazing and decent loot. Although, we would like to mention that for an inexplicable reason, the long dark desolation point is something not much considerable or worth visiting.
But, if you are a forge lover then it might prove itself as the cherry on the cake. However, the thing to keep in mind is that Desolation Point is linked to Crumbling Highway (to Coastal Highway).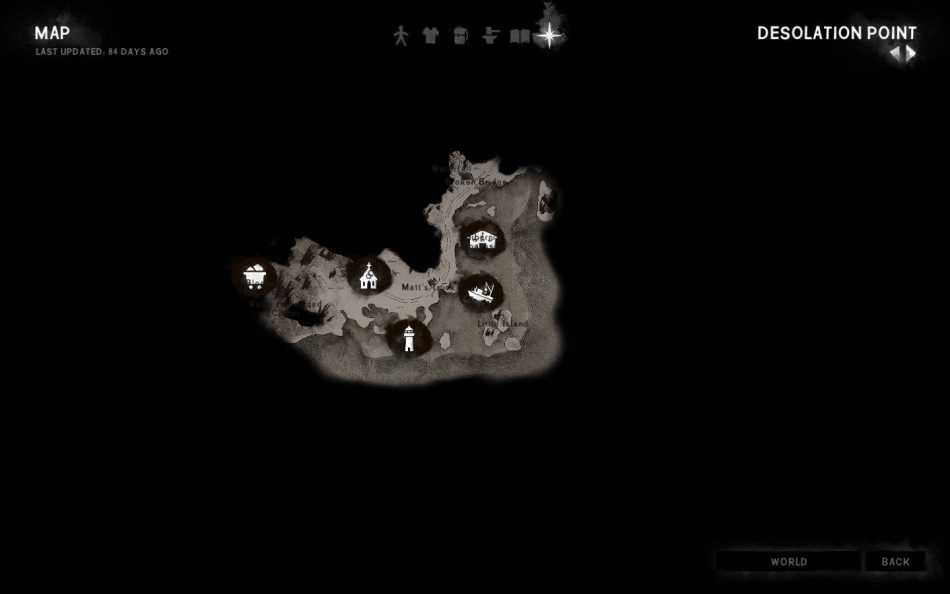 In the end, These are all the Long dark maps which include the long dark region maps and transition zone maps as well.
Nonetheless, more new zones are awaited by the long dark players. And the developers might be working on the same. So, for those new zones' maps, we will update you as soon as it will be out.
But, till then, these long dark maps will help you through your way in that thoughtfully developed, first-person survival simulator that lets you explore the post-disaster world all alone.
To put it another way, the setting of the video game is a Post-disaster world that is haunting yet beautiful and in peace now. If " things that will never be the same back now", are the kind of fascinations you do, then, Long Dark Video game along with the long dark map is all that you would want. Am I right?
In this game, you also get to see different outfits which you can use in this game. If you don't know much about these in-game clothing, then don't worry, we have prepared a guide on the long dark best clothing for your convenience, which you can take help of and enjoy the game.
As we mentioned above, you may find one long dark map more useful, in comparison to other long dark maps. And that totally depends on your gaming experience.
Ready now to play the Long dark where Roads are no longer safe.
Of course, due to those bears and wolves, i.e., wildlife settings, with these useful Long dark maps?
FAQs
What is The Long Dark game?
The Long Dark is a thoughtful, exploration-driven survival simulation set in the Northern wilderness in the aftermath of a geomagnetic disaster. You are a plane crash survivor who must explore this new and hostile world.
What are game maps?
They're the geography and topology of the game world. They allow you to explore the world and view different areas of interest.
What are "game maps" used for?
Game maps visualize and present data about different game's open-world areas and represent their topology and geography.
How can I get "game maps"?
A list of game maps will be located in the Extras section of the main menu bar at launch. You can also directly download all presently available game maps here.
How do I maintain and update my game maps?
You can download a new version of a map you're using at any time by checking the updates menu. You can also access this menu directly by clicking the "Download Updates" button on your Extras menu. Once the update is complete, you will be able to access that map again.
What can I do with the maps?
You can check them out for yourself when playing the game. They are intended to show you, as a player, where different world areas are located on the real Earth. Each map is also clickable, allowing you to use the in-game zoom function to look closer at an area of interest.
Why am I getting a "Loading Game Maps" message?
This message indicates that the game has not yet loaded all the maps you've selected from your Extras menu. To fix this, quit and relaunch The Long Dark.
Are there any differences between the PC and console versions of the game?
Yes, there are. The Xbox One version supports more graphical options than the Steam version. We use Unity for porting the game to consoles while we use Unreal Engine for the Steam version. The Steam version also has better controller support (an option not available on the console). Other than that, both versions are very similar.
How can I change the graphic settings?
You can change the graphic settings by going to the Options menu or by pressing ESC while playing. You will be able to change resolution, display settings, and customize many other parameters, such as disabling motion blur or vertical sync. You can also select a preset profile on the menu. If you are having trouble with performance, we recommend selecting one of the lower options.
Final Words
In conclusion, the game does an amazing job providing content for those looking to play in this genre. With plenty of varying environments to explore and mysteries left unsolved, you'll always have something new to see around the corner. Put, if you're not playing The Long Dark, then you're missing out on what is arguably one of the best survival games of our generation!
Thanks for reading this article! For any questions or suggestions, please feel free to comment below!