Destiny 2 is a very popular and adventurous shooting game with very exciting weapons like guns, swords, and many more. Grawning Hunger is the fastest and most precise Auto Rifles out of these guns. This rifle has gained popularity after the launch of Seasons Of Arrivals.
This gun was introduced in Destiny 2's Season of the Drifter, but it was not given much preference and recognition. Recluse was always considered a better option due to its accuracy and precision. Gradually after some time, this rifle gained popularity, as it was highly reliable and durable to carry onto Beyond Light as well as for Grawning Hunger.
However, searching for the perfect rifle for your gameplay with d2 Grawning Hunger is not very simple. It comprises two variants, namely, PVE and PVP with terrific and amazing features.
These guns are highly efficient in influxing your range in order to enhance your gameplay. This rifle ensures a worth watching along with a thrilling and worth watching experience.
Here's a small guide that can help you to choose your desired Grawning hunger light gg rifle, in order to offer electrifying gameplay. Are you looking for the Perfect Paradox God Roll – Destiny 2?
Gnawing Hunger Destiny 2 God Rolls
Gnawing Hunger PVE God Roll
This rifle comprises an excellent rampage, demolitionist, along with subsistence, which allows users to cut through the hordes of other player attackers without reloading the rifle. On the other hand, Rampage stacks your damage after each and every kill.
Besides, Demolitionist is the most feasible option if a player is focused on his skills, as it offers grenade energy after every kill of your opponent.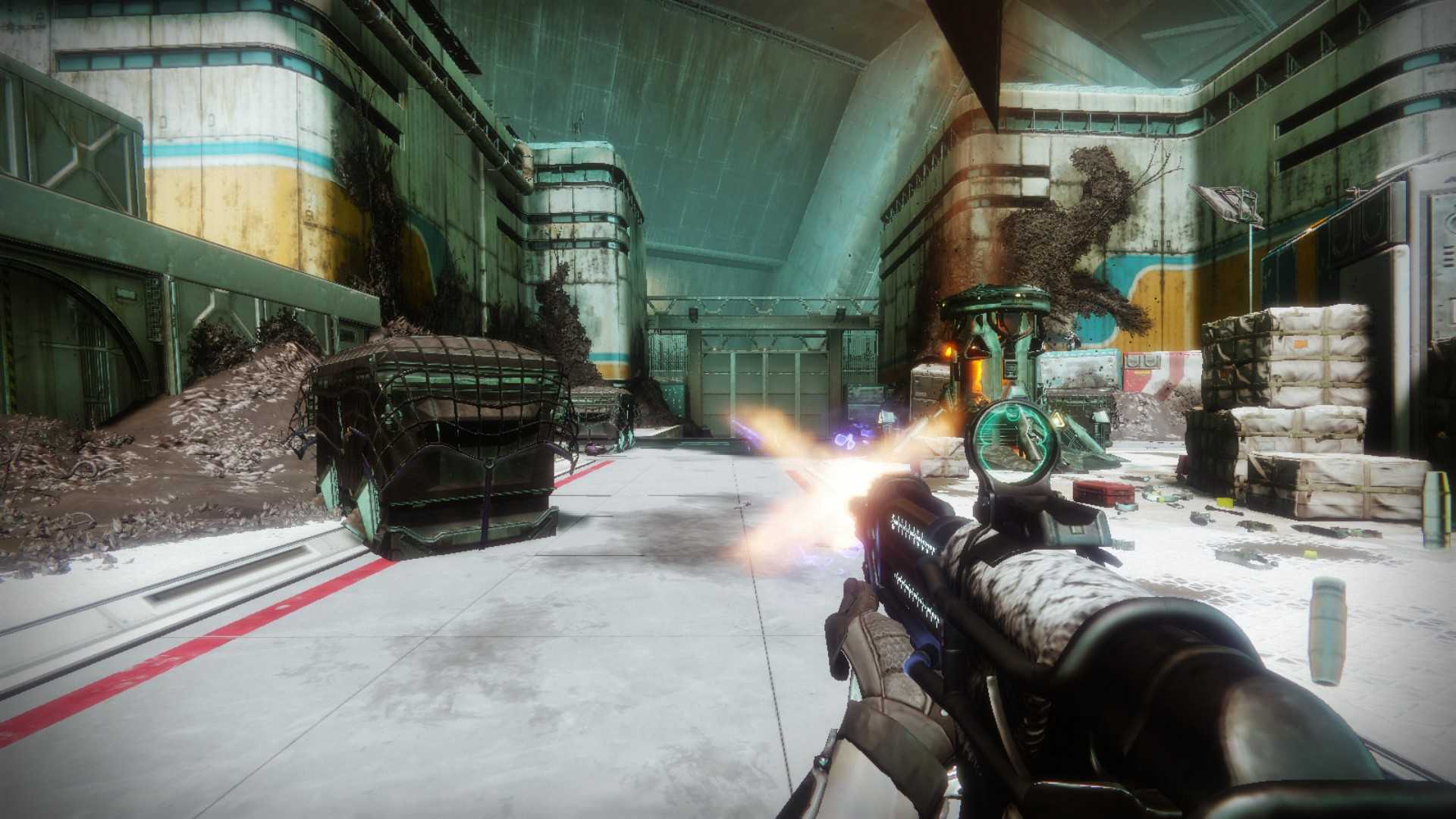 In addition to this, it comprises an Arrowhead break with Extended Mag to offer better controls and navigation during your entire game. All in all, it ensures strong and thrilling gameplay that can never let you down.
 PvE Perk Slot 1
This slot comprises Arrowhead Brake which offers excellent handling and +30 recoil to ensure efficiency. Along with this, it carries a Chambered Compensator which provides high stability and recoil (+10) with low handling. The Corkscrew rifling supports low handling as compared to other variants.
 

PvE Perk Slot 2

This slot boosts the Magazine size along with the reloading speed of your rifle as this is a shooting game, players are using lots of bullets in the entire game.

The Tactical Mag comprises +5 Stability, +10 Magazine and+10 Reload Speed with an Extended Mag of-20 Reload Speed and +30 Magazine. Accompanied by an Appended Mag of +20 Magazine speed.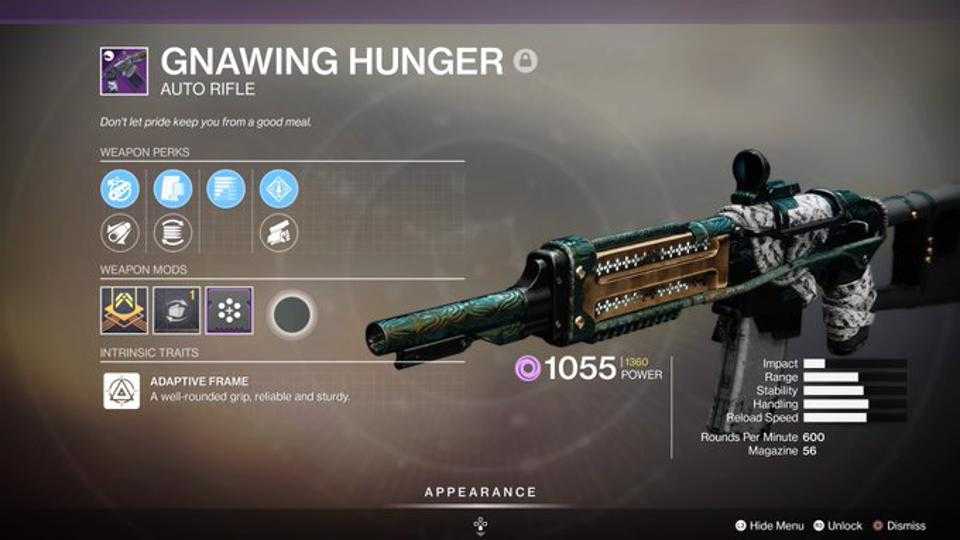 PvE Perk Slot 3
This slot facilitates users with high stability in order to tap the trigger in a short period of time with high accuracy and precision during the shooting in the game.
In addition to this, it is composed of subsistence to destroy the partially loaded magazine from the major reserves of the gameplay. The stability of damaged weapons is boosted via Zen Moment. Are you here for All Wishes for the Last Wish Raid destiny 2?
PvE Perk Slot 4
Slot four highly influences your gaming style by offering a Stack 3x Multi Kill Clip to boost your power in order to destroy the entire opponent force by quick reloading and rapid killing.
Along with this, they offer a high Demolitionist and Rampage rate by influxing your opponent damage and producing grenade energy after every kill to reload and reboot your weapons.
Destiny 2 Gnawing Hunger PVP God Roll
The PVP variant of this rifle has a very simple make with efficient features. As discussed above, the PVE barrel focuses more on the range, we have asked you to choose Smallbore or Hammer-Forged Rifle as they influx the range of your rifle and offer productive results without any losses or drawbacks.
Similarly, we have chosen the Accurized Rounds, in order to boost your range with this rifle. This can lead to an appraisal in the total no of duels in PVP, which is very crucial as the major weakness of archetype is that it lacks accuracy, range, and precision.
In order to set warfare with them, this barrel offers a Tap for Trigger feature in order to offer high stability and precision during pulling the trigger while shooting.
You can also use Zen Moment as it is efficient in offering surprise raids and kills and boosts your stability. However, Kill Clip has given excellent results in offering a good damage boost just after reloading the rifle. All in all, it is highly preferable for long-range Accurized fights.
PvP Perk Slot 1
This variant of PVP comprises an extended barrel system of range +10 with +10 recoil and -10 handling system. You might have understood that this barrel offers excellent range along with low handling.
Also, it comprises a hammer-forged rifling with a range of +10 units. However, the small-bore comprises of +7 Range and +7 Stability in this barrel.
PvP Perk Slot 2
The second slot offers high stability in order to ensure safe and accurate gameplay with a high rate of bullets and fire. Precisely, it is composed of +5 Stability, +10 Magazine, +10 Reload Speed in the Tactical Mag with an Accurized round of +10 range in this barrel.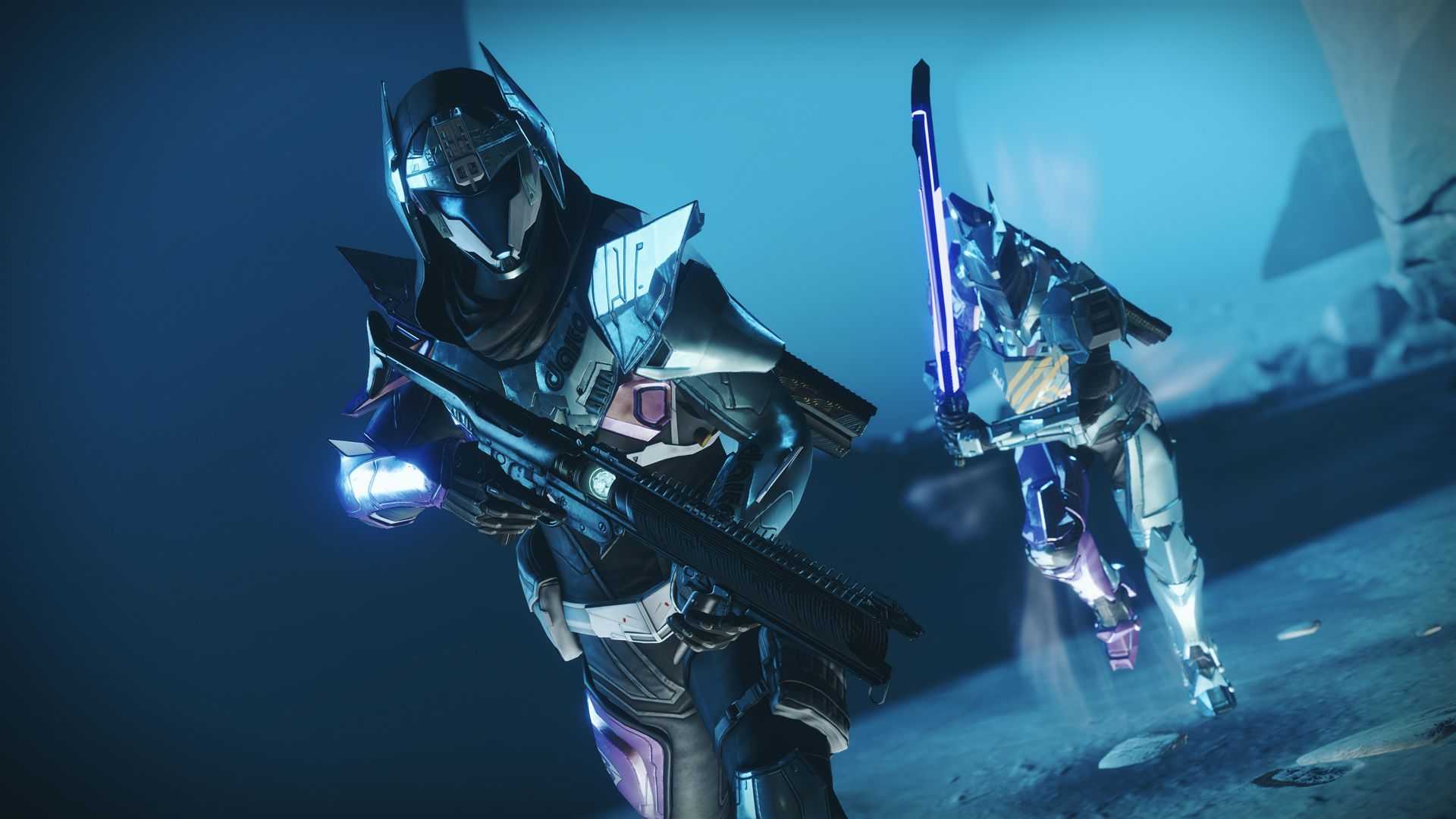 PvP Perk Slot 3
In this barrel, you will experience a sudden boost in your stability and accuracy due to the initial trigger pull in a shorter time frame. It also comprises of Zen moment which causes terrific damage to your opponents and leads to the rise of stability in the gameplay.
PvP Perk Slot 4
It comprises a demolitionist that kills the opponents with high precision and generates grenade energy after every kill, which automatically activates your ability to reload your weapon from major reserves.
In addition to this, it comprises a Kill Clip feature in order to reload efficiently after several kills in order to increase the damage of your competitors.
Location of Destiny 2 Gnawing Hunger Rifle
Attaining a Grawing Hunger weapon in this game is not that easy. Players find it very hard to find these rifles during this entire gameplay.
Players try their level best to attain this gun, some think it requires a lot of luck, while others think it requires lots of resources.
We have listed you the best possible options in order to attain a Grawning Hunger d2 auto rifle.
       

The decryption of Legendary Engrams

        

Complete Banshee-44 activities

        

The decryption of Umbral Engrams

        

Offer Banshee-44 Gunsmith Materials
Out of all these ways, the best option is the Decryption of Lead-Focused Umbral Engrams, as it offers you the Night Watch or the Gnawing Hunger during your game. In addition to this, it can also offer you weapons in order to ensure thrilling gameplay.
Let's Conclude
Destiny 2 is a single as well as a multiplayer game that incorporates online role-playing and thrilling shooting experience using terrific rifles.
Gnawing Hunger Rifle is one of the best Destiny PvP god rolls weapons available in the game. It is very well installed with Zen Moment, Rampage, and Kill Clip. In addition to this, it has a sleek design due to PvP embedded on its surface.
On the whole, it is very efficient to carry out raids and shoot your defenders during the entire gameplay. All in all, it offers support coupled with high grenade powers to the players against their opponents. Are you looking for the Destiny 2 – Drifter Allegiance Quest?
FAQ
1. What are the main highlights of Grawning Hunger Destiny 2 Rifle?
Zen Moment or Tap the Trigger/Rampage -It boosts the stability of your Rifle throughout the game.
Tap the Trigger/Rampage – It facilitates the players to reload faster in order to assist you in heavy firing and keeps you safe during attacks and raids.
Kill Clip-This can increase the damage of your opponent's side and ensures your victory in the game. PvP roll-To ensure a sleek look to your rifle
Subsistence/Rampage or Swashbuckler – It is present in the PvE roll.
Subsistence/Demolitionist –Highly effective to meet your grenade build needs.
2. What is the best alternative to Grawning Hunger Destiny 2 Rifle?
The Best alternative for Grawning Hunger Rifle is Falling Guillotine, it is a very powerful sword with legendary properties. It is the heaviest rifle of the entire rifle in the Seasons of Arrival of Destiny 2.If you are fortunate enough to achieve this sword you will be uplifted to Season Rank 30.
In addition to this, you will be awarded an Umbral Engram and you need to decrypt it in the Annex, where The Drifter is found. It also comprises PvP and PvE slots, which ensures you better command and high precision.
It is designed with a honed and tempered edge to offer an attractive look to the sword and boost the damage caused by the weapon. However, Whirlwind Blade intensifies the spin attacks and damage caused by it.
Along with this, it is also efficient for the new Prophecy dungeon level, which is the latest endgame activity of Destiny 2.
3. Give a brief description of God Roll Weapons other than Grawling Hunger in Destiny 2?
This is one of the popular rifles from the entire list of weapons of the game. It comprises Spike Grenades, along with Autoloading or Demolitionist with a Disruption Break as a solid backup for your gameplay.
This is one of the rifles with lower max power in the entire Season Of Dawn. Along with this, it has survived the fall of expansion during the gameplay.
Conclusion
It is truly a pleasure to have been able to share this post with you all. From the bottom of my heart, I would like to thank each one of you for reading this post. I sincerely hope you will enjoy playing this game, share your experience with us after playing it. I would like to say that I hope it was a worthwhile experience for you to read and learn about this game. If you are not able to understand things properly, then please feel free to leave your questions in the comment section below, and I will promptly return with answers.